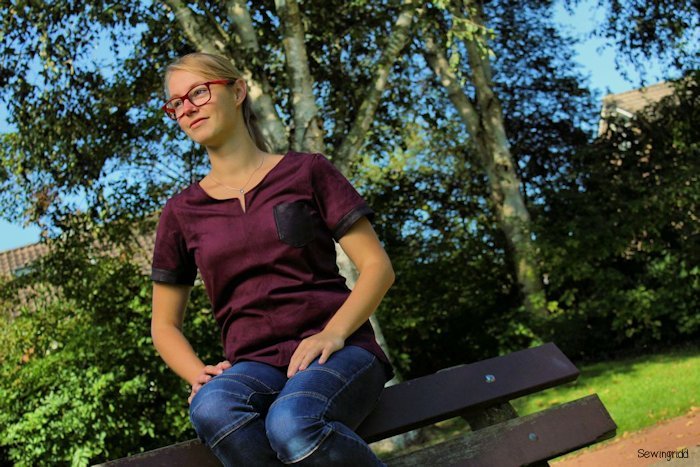 Austin Tee – Blogging for Blank Slate Patterns: Behind the scènes!
Austin Tee – Blogging for Blank Slate Patterns: Behind the scènes!
You might have seen it already, but I'm happy to tell you again: I am one of the bloggers on the Blank Slate Patterns sewing team this year! So in the coming year I will post 3 (paid) posts on Melly Sews blog.🎉 Super exciting!
Blank Slate Patterns is an American pattern company runned by Melly. She designs sewing patterns for women and kids. Every week one of the members of the sewing team shows a creation with one of her patterns on the blog. In the team are all kinds of ensewciastics. Some of them I had never come across, but some others I already followed and admired on Instagram for a while. So it feels like an honour to be on the same team with them, haha;)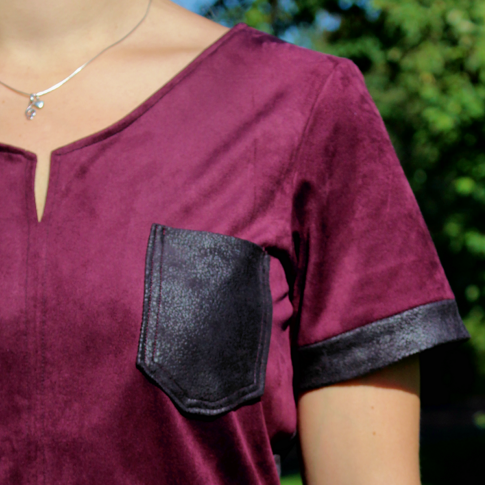 My fist blog was publicized on October 6th, you can read it here. For this post I decided to make the Austin Tee. This is a pattern for a fairly basic T-shirt, but you can tweak it to suit your own style by picking some of the options provided with the pattern. I went with the slit on the neckline, short sleeves and chest pocket. Also, I added slits to the side seams and cut the sleeve pattern piece in two parts to add a black border.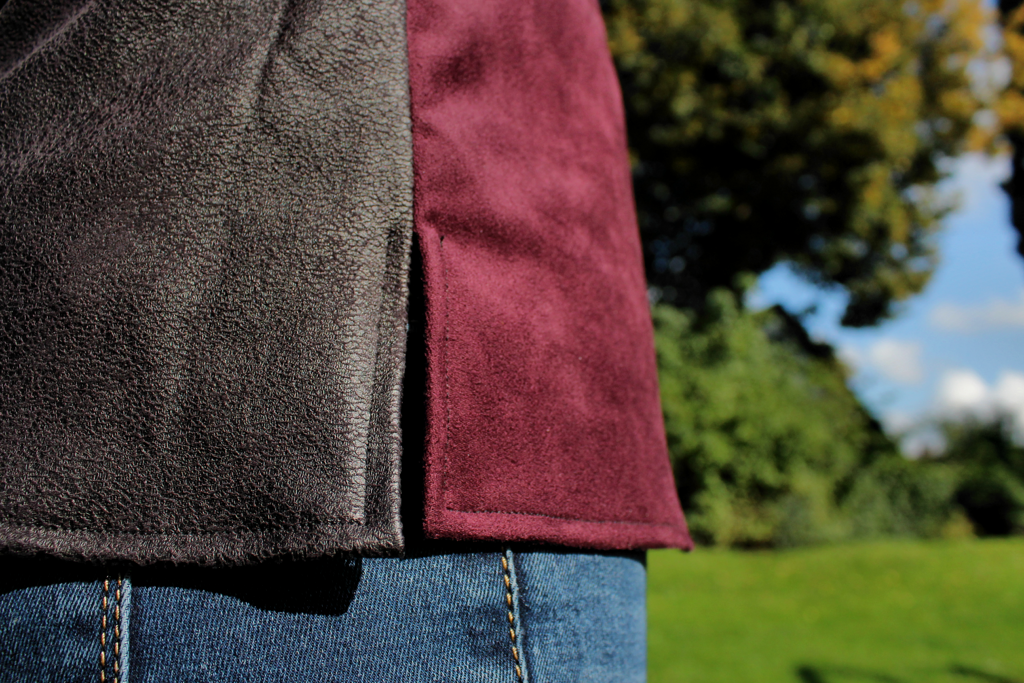 As you could read in my blog I used two remnants of fabric from my stash. In fact, my fabric stash is quite large because I am not good at parting from beautiful stuff. I even save really small remnants, just in case they will ever come in handy.😅 Luckily these cloths were exactly big enough to make a T-shirt. I actually think these two make a perfect combination: the beautiful burgundy suedine I used for my most recent evening gown and the at least as pretty black version I used for my Knipster Jungle Fever pants.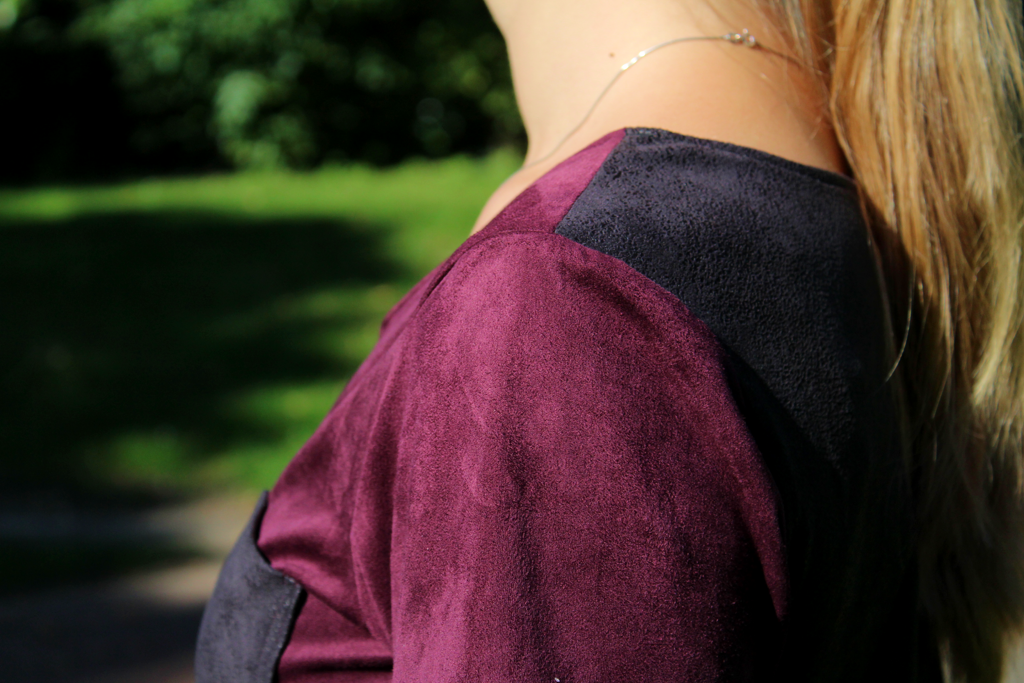 The T-shirt came together really quickly and the fit was immediately good! Especially the latter was a nice change 'cause usually I have to make adjustments. 😁 The hardest part about putting together the blog was therefore taking the pictures, in itself nothing complicated you would think.
My brother agreed to taking the pictures. So on a sunny afternoon we went outside shooting. But once we had started it soon turned out that the sunlight was waaay to bright to get a nice result. Luckily he had some kind of reflecting screen to soften the light and shadows a little, but he lacked the hands to hold it. Reluctantly we called our mom and fortunately she could pause her work for a moment and assist us.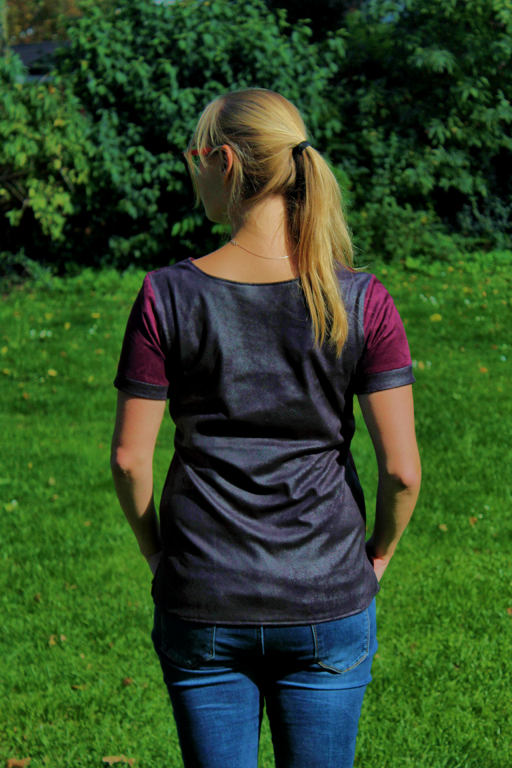 Can you imagine the setting? Me, a little awkwardly posing and directing my brother, my brother diagonally underneath me to take pictures from his beloved 'Dutch angle', and finally my mom holding a large white screen high above her head to block the sun. Of course exactly this was the moment the neighbors were setting up for a neighborhood party so they all came across and beheld the situation. Hahah, good timing! The shoot thus was a little awkward to me, but I was happy with the result. My T-shirt was being photographed and the blog was ready to be sent!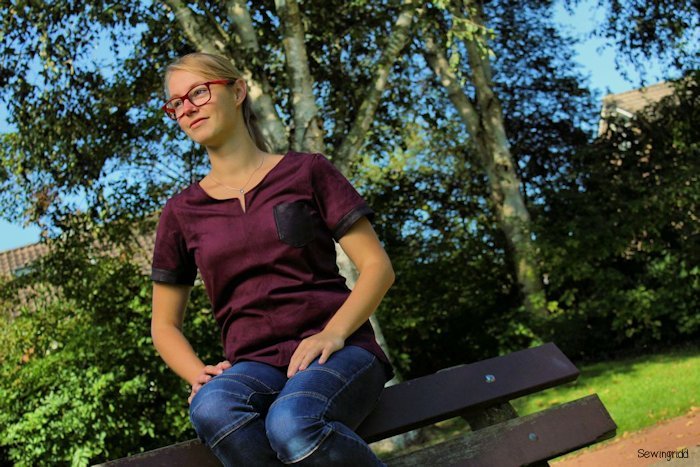 In the end I really like the T-shirt I made! Unfortunately, in practice it appears that it does not look very good with a cardigan or jacket. Then everything I love about the color(combination), fabric and neckline disappears into a giant black hole. That is why I have not worn this T-shirt really often yet. Maybe I will wear it when it will be a little warmer in spring, but then the color might be a little on the dark side. Woops, fashion is soo complicated haha.
I hope you liked my Austin Tee and American blog, and are inspired to also dive into your fabric stash (if you have one, cannot always recommend it;)). There you might find some hidden treasures!
Photographed by Wilco Born
The Austin Tee pattern was kindly provided by Blank Slate Patterns free of charge as part of their Sewing Team. Naturally, all opinions are my own.