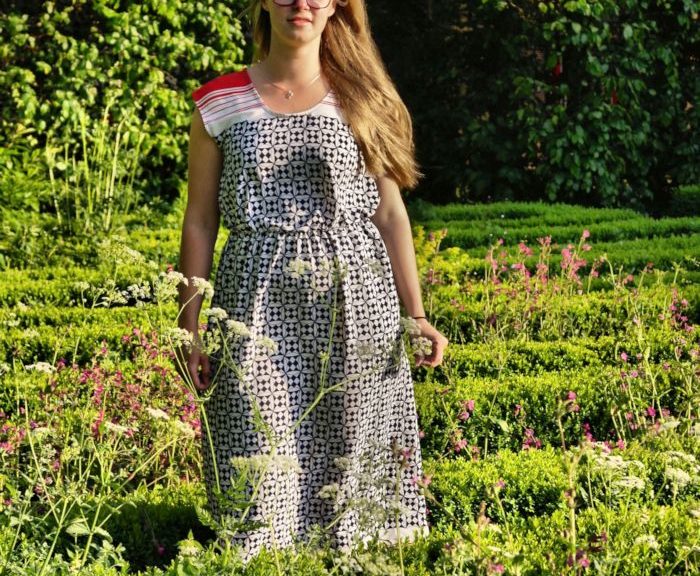 Catalina – A Summery Maxi Dress
Catalina – A Summery Maxi Dress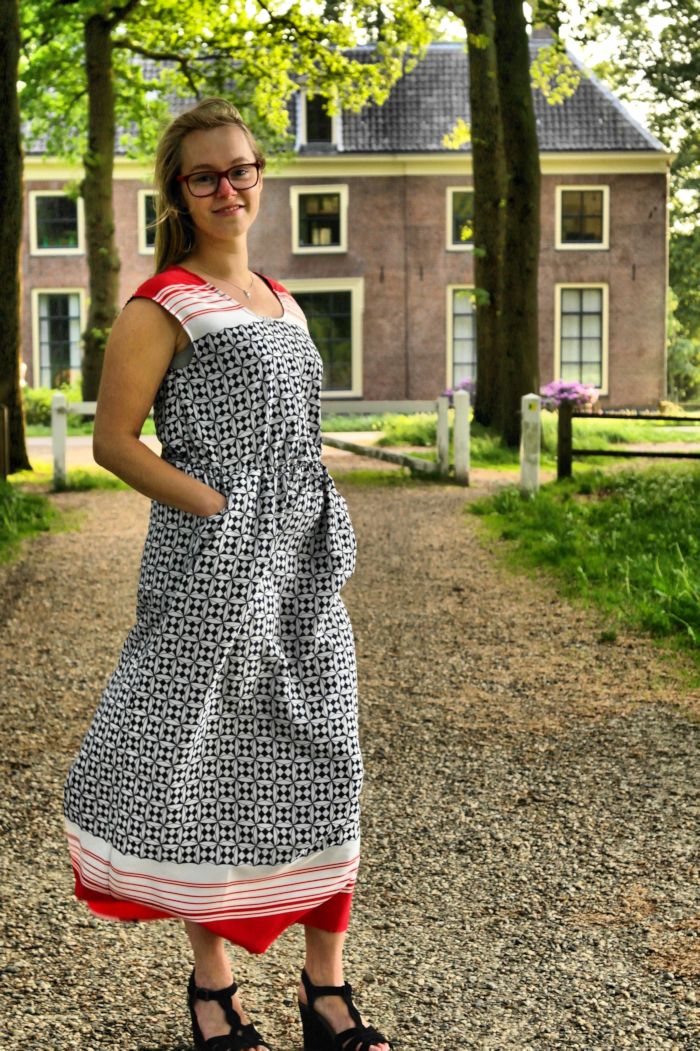 Read all the way down this blog to find out how you can win this pattern!
In summertime we need dresses right?! Dresses that suit several different occasions all at the same time. Well, recently I came to the conclusion that for myself I particularly like the kind of dresses that are flowy, fun and flattering but not too sexy or revealing, just feminine. I'm getting older I guess…;)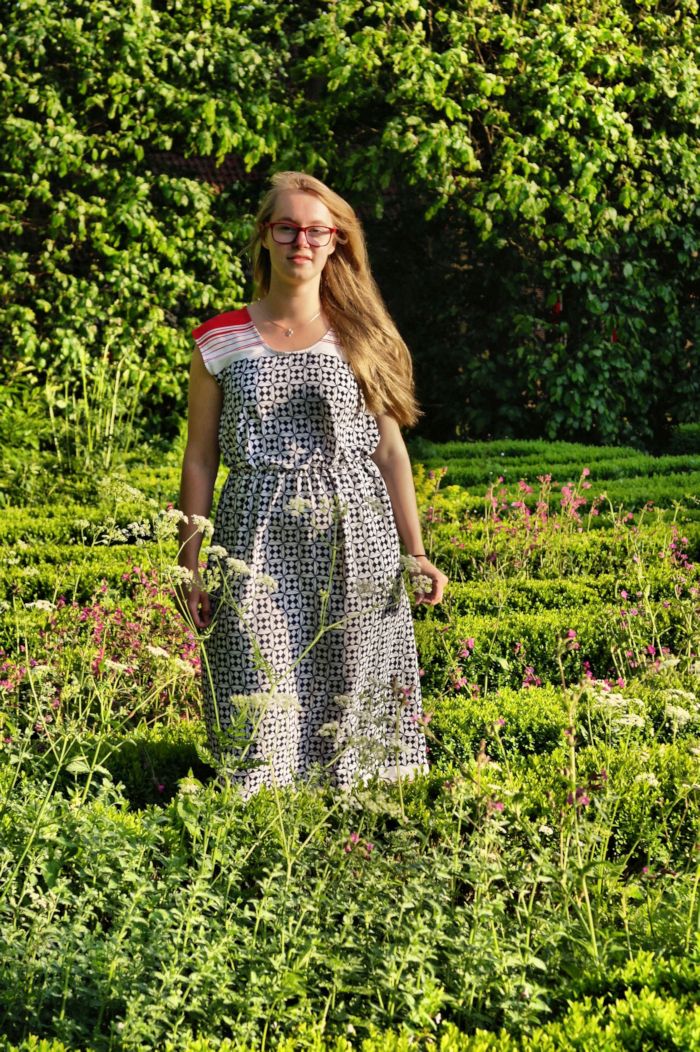 In my daily life I don't often wear dresses, since they are not practical on my job (need to cover my legs in the laboratory). For me to wear a dress on the few occasions I can, a dress should check all the boxes! For example, at this moment I have a nice maxi dress in my closet that I wear often (that's probably about 5 times a year hahaha). Because it's black & white and decent yet flattering, it suits a plain birthday party but also more formal setting. And since it's maxi length it's right for colder to super hot weather. Just bringing a jacket is enough to prepare for any sudden weather chances (welcome to The Netherlands). That's why this dress gets worn!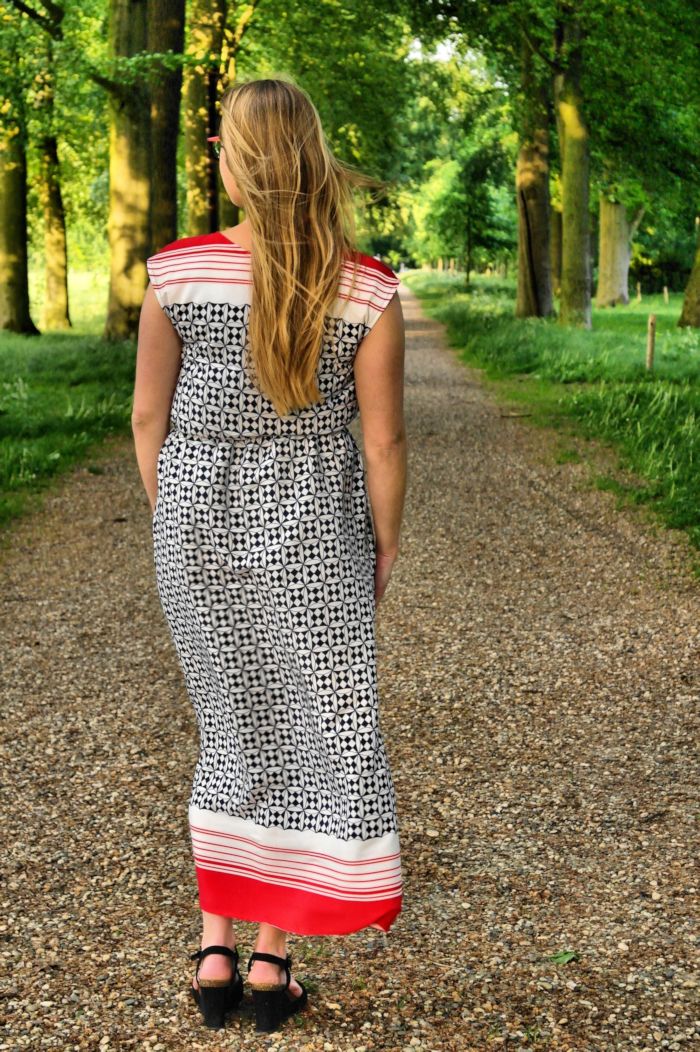 So lately I figured that I could use another great maxi dress like that, because I'm leaning more towards wearing dresses again. To a sewist this means: time to take out the sewing machine! Apparently I had already foreseen this need one year ago when I bought 3,5 meters of this lovely border printed fabric! All meant to be a great, full length dress!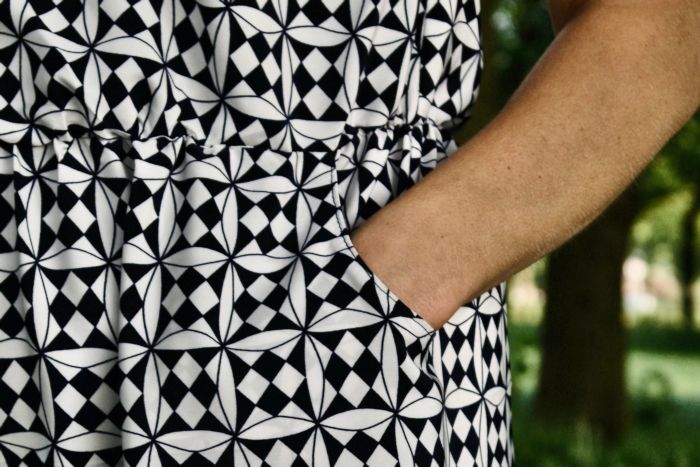 Lucky as I am I stumbled across the Catalina dress pattern. This Blank Slate Pattern has been rereleased this week. This elegant, casual, secret pyjamas feature an elastic waist band, gathered skirt and pockets. It has plenty of options, so you'll never get bored trying new styles. You can choose for example between cap sleeves or tank top, 3 length options (maxi length, or below or above knee length), button placket or not, and you can even choose to make it in knit as well as woven fabric! On top of that it is available in the full size range of XXS-3XL.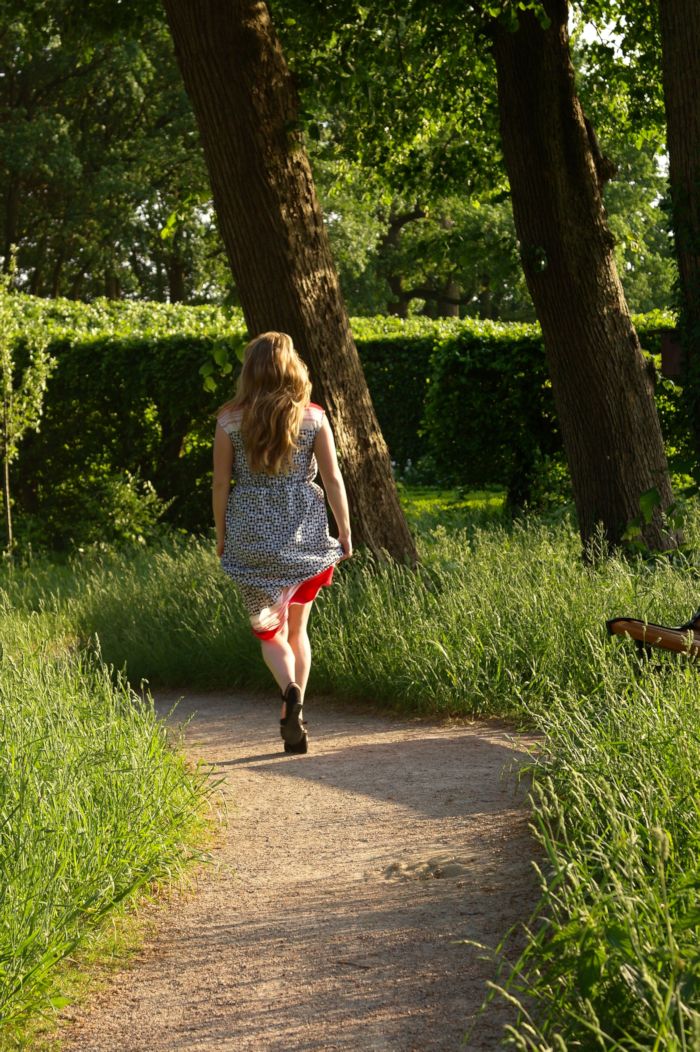 This pattern was almost exactly what I was looking for in a dress, except for the pockets haha. I'm sorry Team Pockets, I just don't feel the urge to store things in my dress except for my body, xD. Still I decided to incorporate them since in my opinion you cannot really judge without trying. The fabric I used is a woven polyester cupro from Driessen Stoffen. When you want to use this pattern it's good to pick a fabric with some drape, so it flows nicely.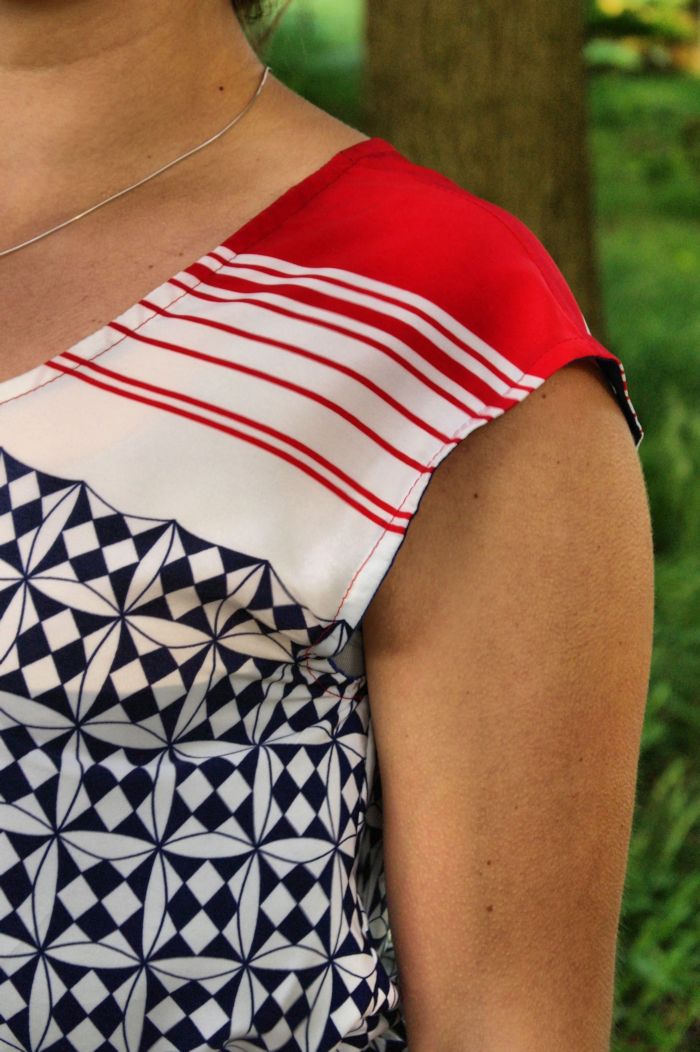 When I was making this dress I had a hard time finishing the neckline and arm holes. The instructions clearly explain how to use bias binding to neatly do this, but for me it was a first timer. The trick was to steam press the bias band in the round shape of the neckline/armhole BEFORE attaching it. So glad that was in the pattern instructions, cause I would have never come up with that myself!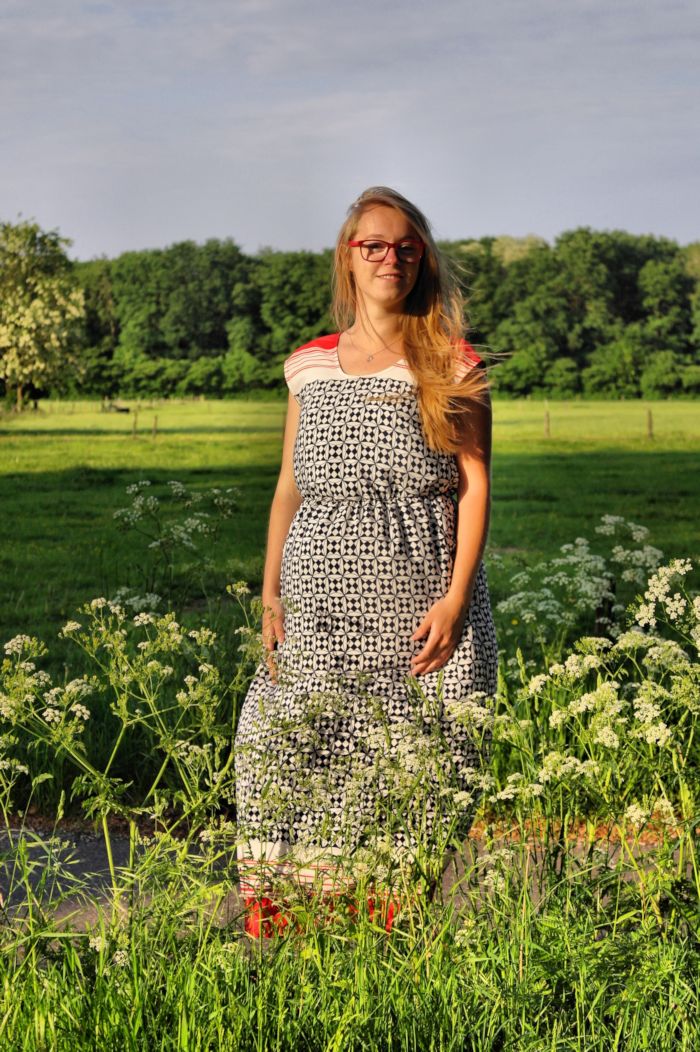 Wearing the Catalina feels nice. And there's no effort in styling yourself! You just put on the dress and you're good to go. I'm just still not sure about the pockets though. I think they are causing a little extra volume in a place that I don't need that, while I probably won't use them. One real disadvantage there is on this dress: namely the skirt, to me, is a little tight compared to my step length. But for me that's a common problem on all full length dresses… You might also have noticed that my dress turned out to be a little short. Because I was really surprised by that, I thought about it for a while and then concluded that I made a stupid mistake. I lengthened the above knee length skirt, while I should have lengthened the below knee length version, wooops. So take this as a warning when you're planning on making your own Catalina.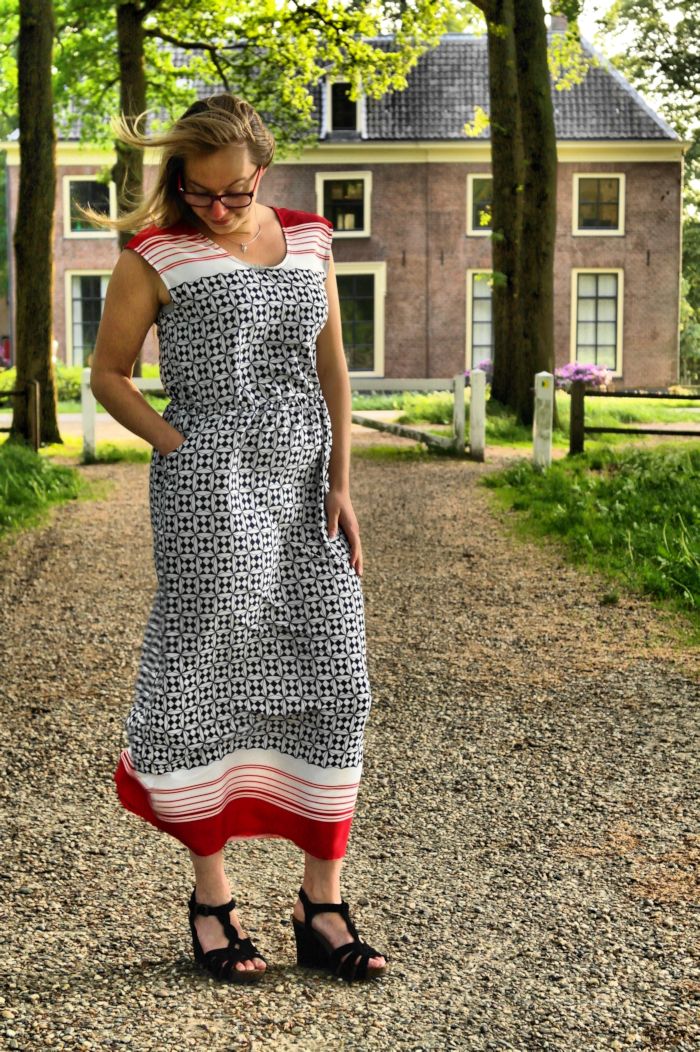 Finally, you probably want to know how you can win this pattern! That is really easy. You just go to subscribe & win (in the top menu) and subscribe to email notifications. Then each time I post a new blog you will get a message, so you're the first to see! Because people that have already subscribed of course also make a chance to win, please also leave message under this blog post telling me you're interested in the pattern. If you don't want to miss anything you can also follow me on Instagram and Facebook, but this is not mandatory for winning. The winner will be announced on May 25th.
Can't you wait that long before starting on your own version of the Catalina dress? The pattern is also available through this link! Now tell me, what does a perfect summer dress look/feel like to you?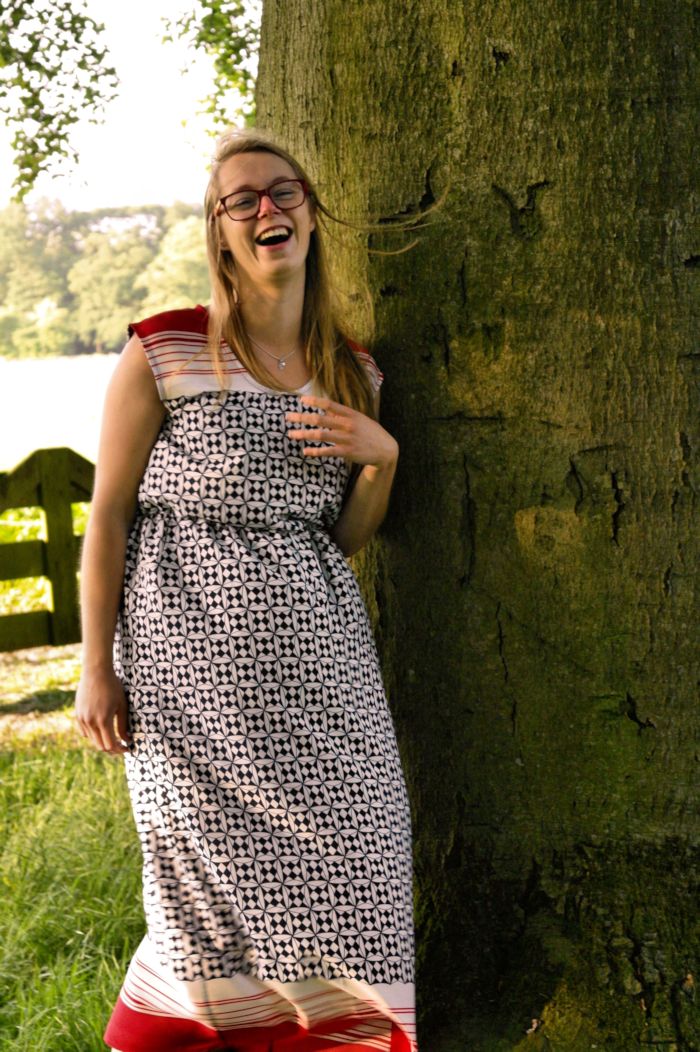 Pictures by Wilco Born
The Catalina dress pattern was kindly provided by Blank Slate Patterns free of charge as part of their Sewing Team. Naturally, all opinions are my own. Additionally this post contains affiliate links which means that if you purchase from one of my links I may get a small commission.