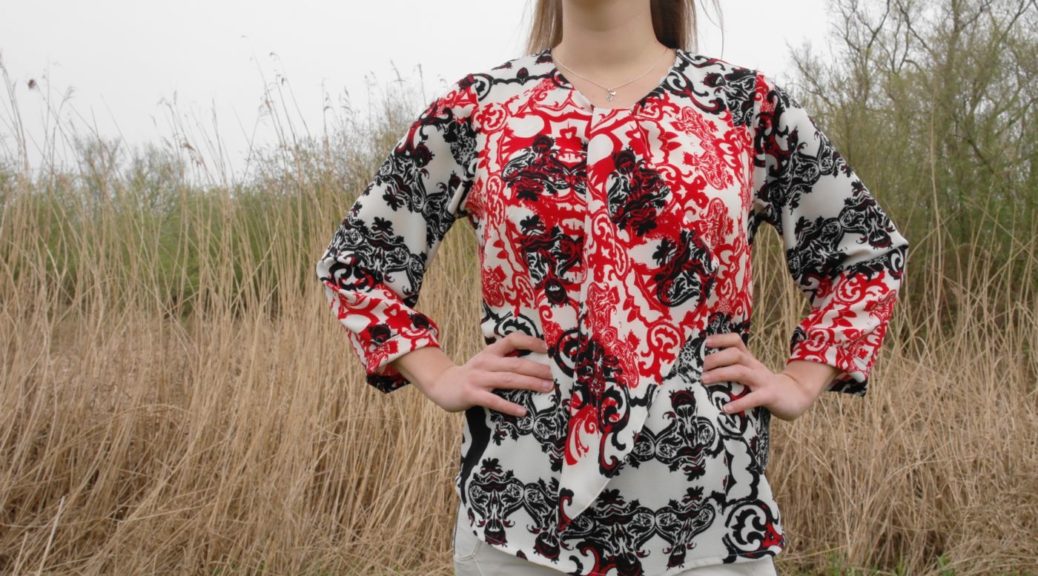 Cosette Blouse – La Femme blog tour
Cosette Blouse – La Femme blog tour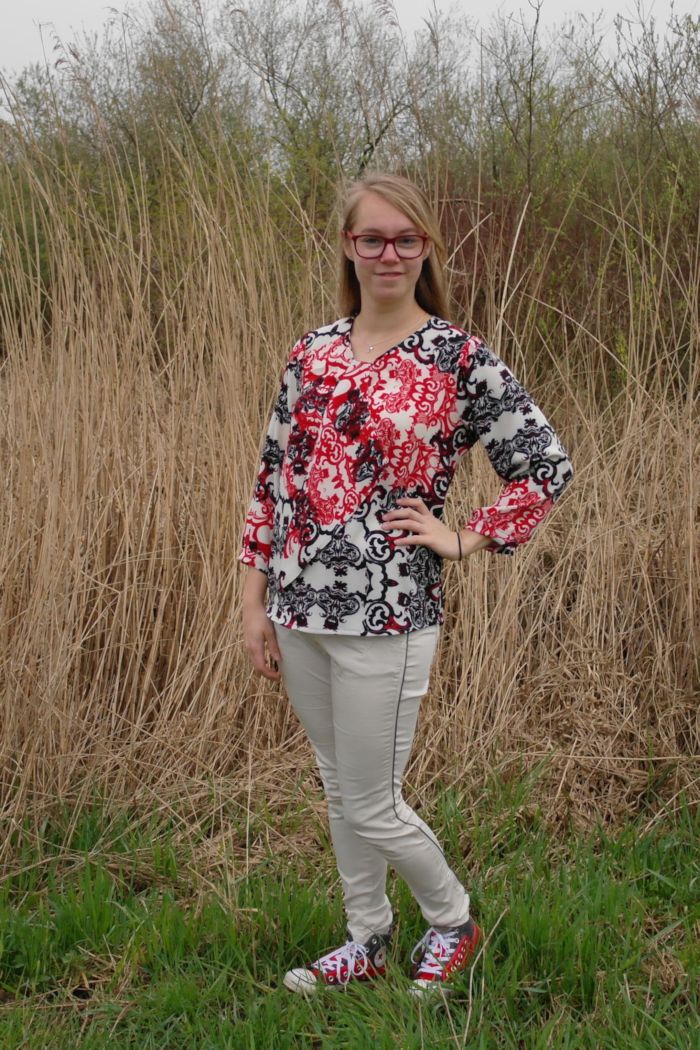 There may be hiding a coupon code at the end of this blog…
A couple of weeks ago I had the privilege to test another pattern! This time it was a pattern for a blouse by Laela Jeyne Patterns. Once again I jumped right in because that is what I love. It's actually one of my main flaws: I want to do it all! That's why my agenda is always over flowing and I barely have time for my full time job, haha :p At least this time it delivered me another great garment to add to my wardrobe: the Cosette Blouse!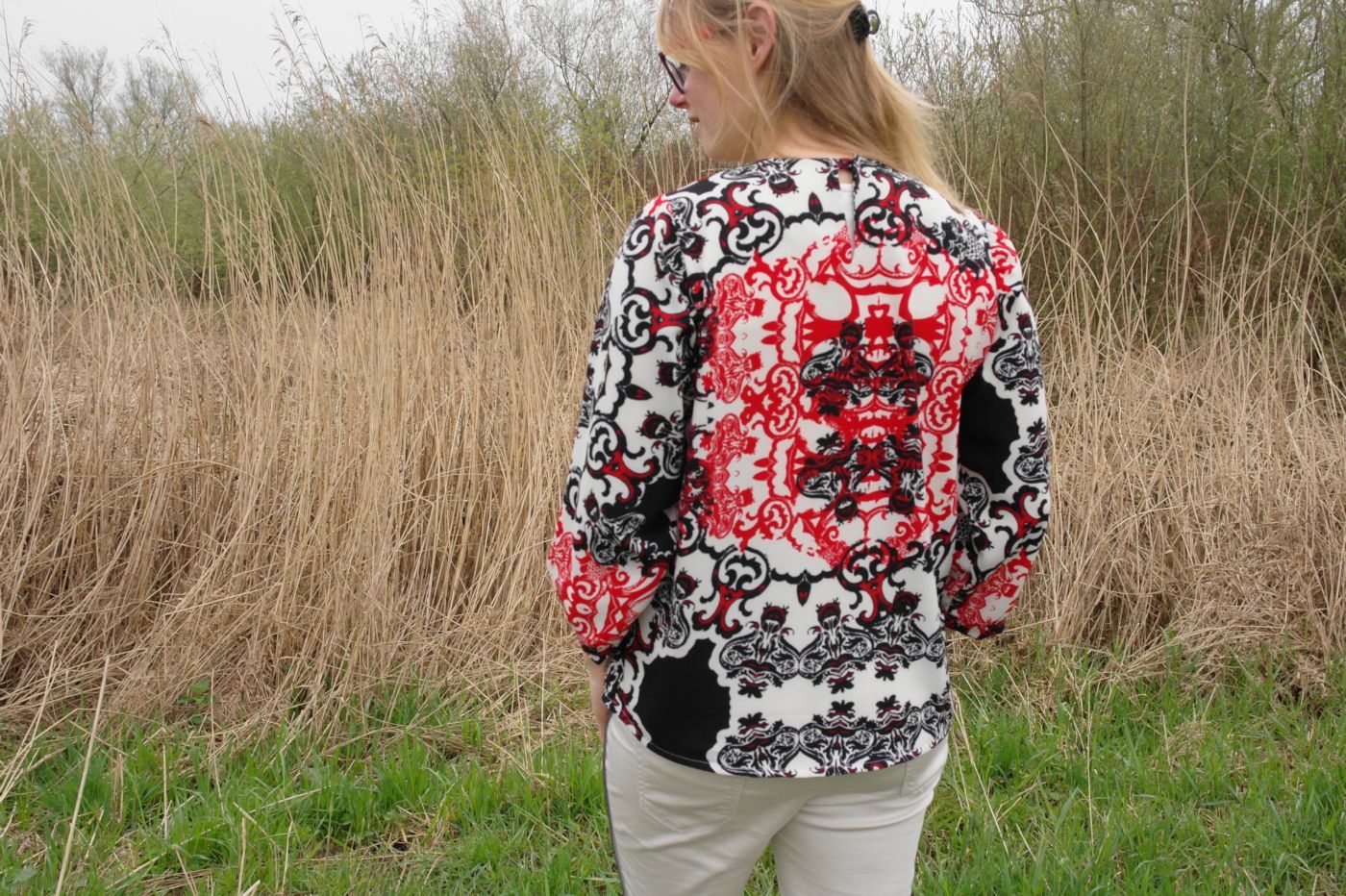 The Cosette Blouse is a brand new pattern that comes with two completely different style options. The first one has a Peter Pan collar and short, petal sleeves which I find really cool! For testing I made the second option which has a cool scarf and gathered 3/4 sleeves. I namely did not think the Peter Pan collar would suit my style, but the scarf certainly does!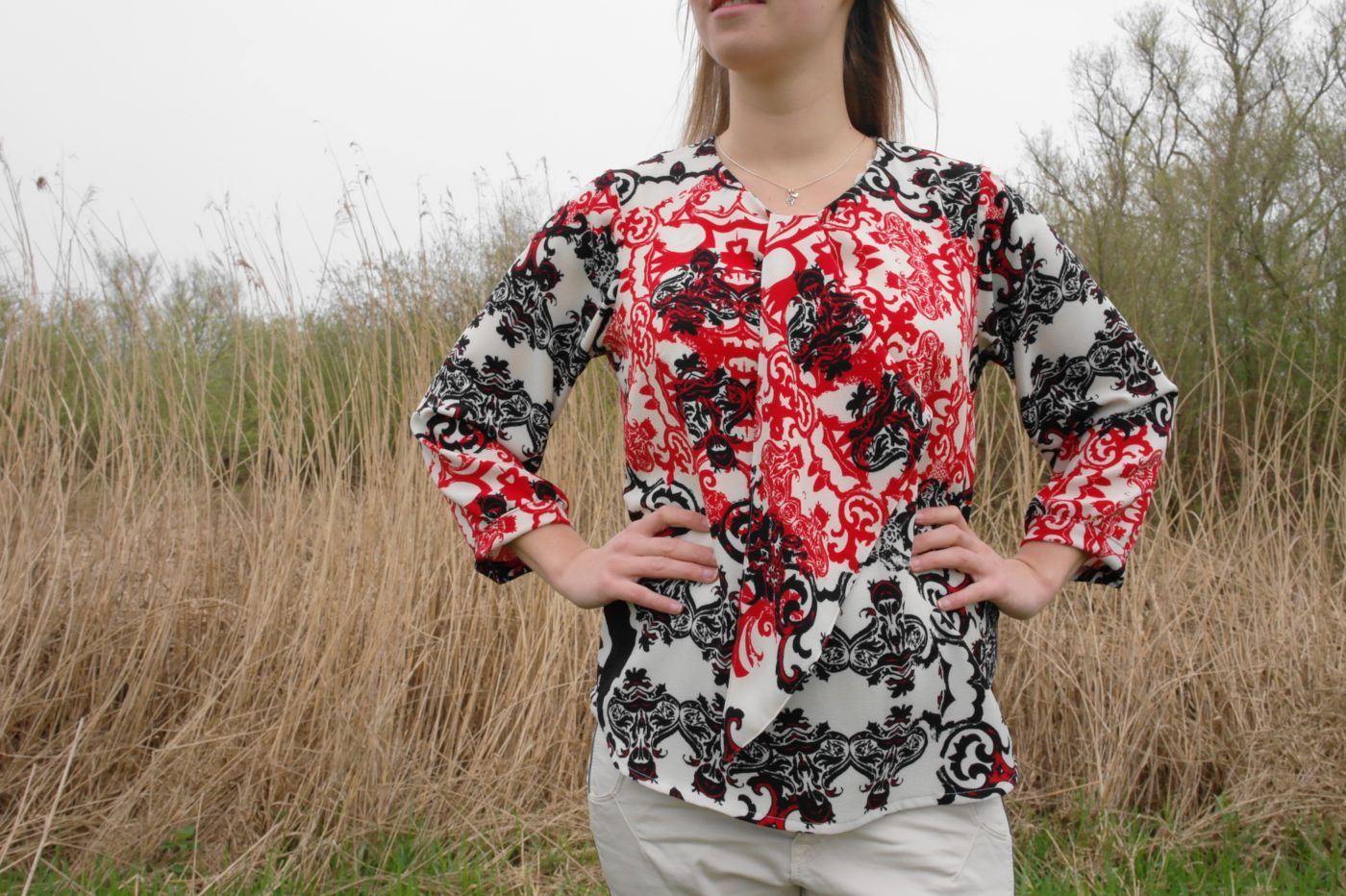 I used this cute red/white/black polyester cupro with baroque print. I bought it about a year ago at www.driessenstoffen.nl. It is thick enough not be see-through, but still has this lovely drape. I love fabrics like these! They usually look great on me because they hide my sweet muffin top, haha. Who would not love that?!;)
The fabric was always meant to be a blouse, but I had never found the right pattern and occasion to match with it. The tester call thus was the perfect opportunity. I know, it is always a risk to use nice fabrics on a pattern testing project, because you just never know how it will turn out. There might be fitting problems or unforeseen issues, but because I had not spent a fortune on this fabric I decided to just go for it!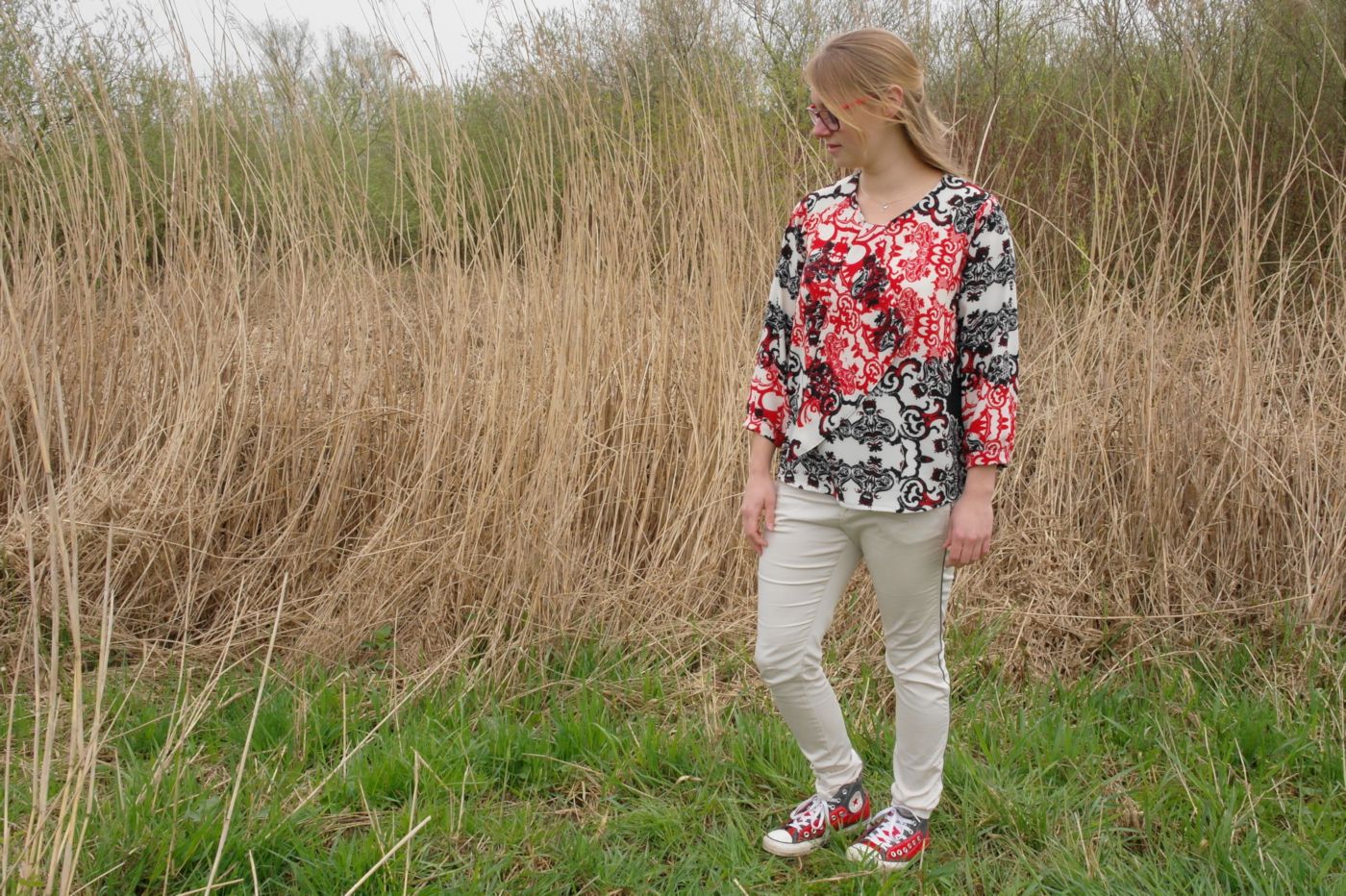 I love how the blouse turned out. The scarf is a really nice addition to otherwise a bit of a plain pattern. It definitely sets the style! Only when I bend forward it looks a bit silly because the scarf just hangs there. Also my blouse turned out to be a bit too large. But that is not because the pattern is this wide! I was afraid the size 10 (which was directed to make according to the instructions) would be too small, just because it sounds tiny to me. I was too stubborn to follow the guidelines, whoops. But lesson learnt: dare to trust size charts!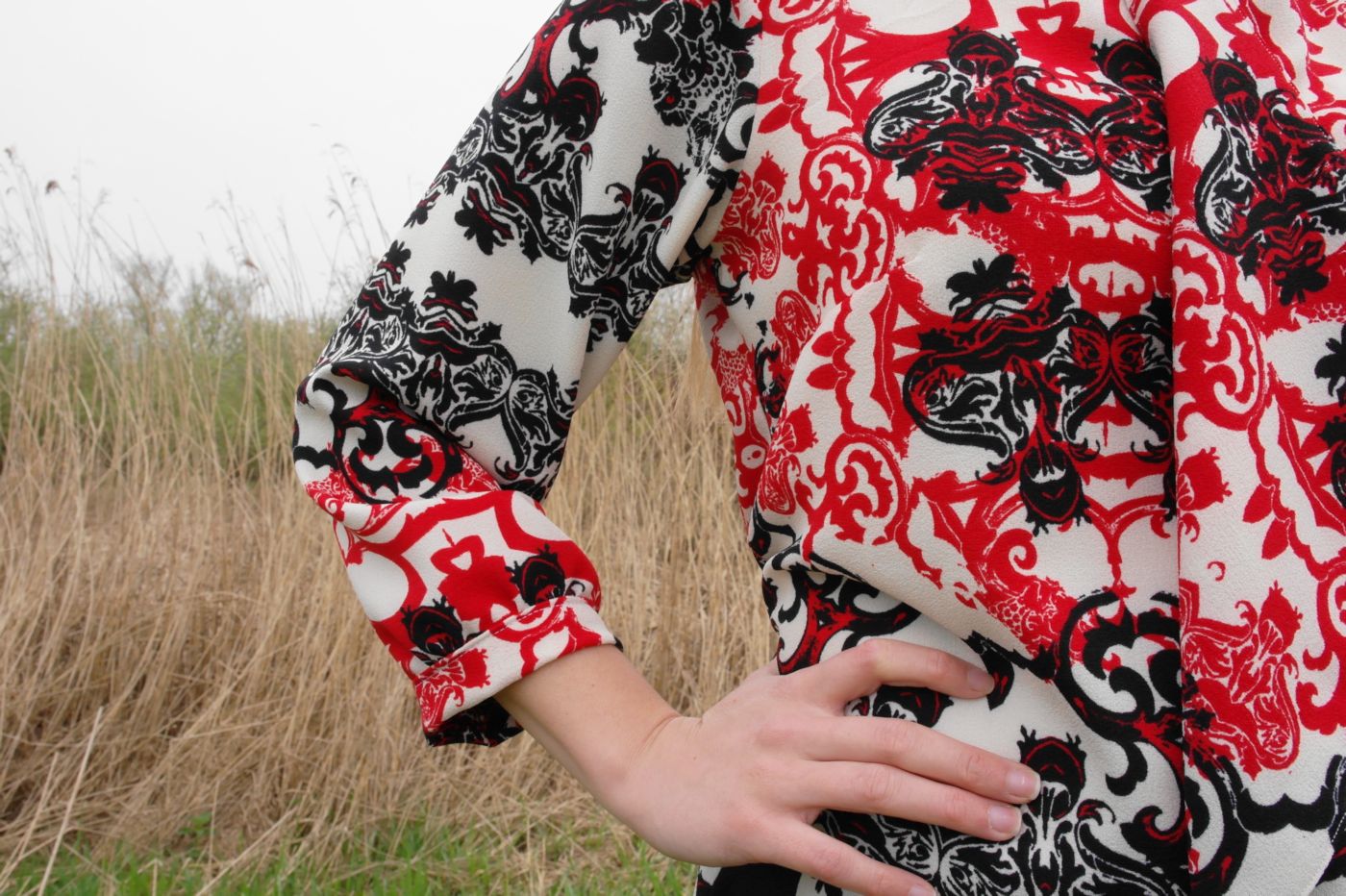 Still, I love how the whole thing came out. Now I am also thinking about making another version with those lovely short, petal sleeves. Using the right sizing of course! That would be really nice for summer, although I'm not sure if my sewing agenda (which changes every single week) allows for more projects before cold weather strikes again, haha! Maybe I'll do another spontaneous version, because I have to admit, that's all I do.
Do you always plan your sewing and stick to that? Or are you just as disorganized as I am when it comes to sewing?
Feeling excited about this pattern? You can now purchase it with 3$ discount by using the coupon code: LAFEMME (expiry: 30 May)! Can't get enough of the new Laela Jeyne Patterns? Check out the other blog posts on this blog tour:
This is the tour schedule for this week! After the tour has finished, you can view all of the links shown
Laela Jeyne Patterns La Femme Collection Blog Tour
May 1
Madame Stoff – Tester Round Up
May 2
May 3
Once Upon a Sewing Machine – Sea of Estrogen
May 4
Just Delphine – Flax Field Sewing
The Cosette Blouse pattern was kindly provided by Laela Jeyne Patterns free of charge as part of their tester team &  blog tour. Naturally, all opinions are my own. Additionally this post contains affiliate links which means that if you purchase from one of my links I may get a small commission.