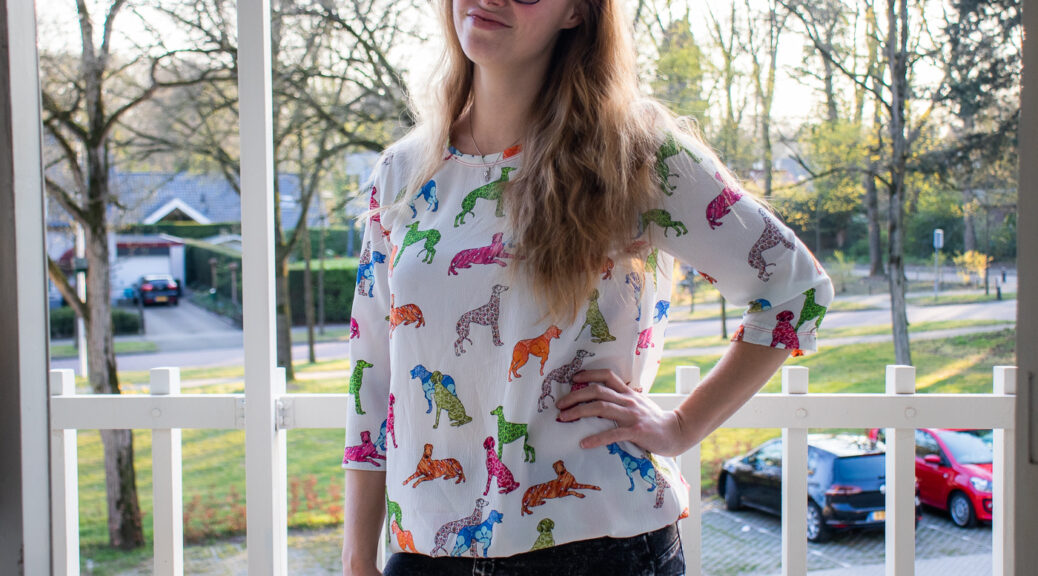 Dog Weather – Cheerful Blouse
Dog Weather – Cheerful Blouse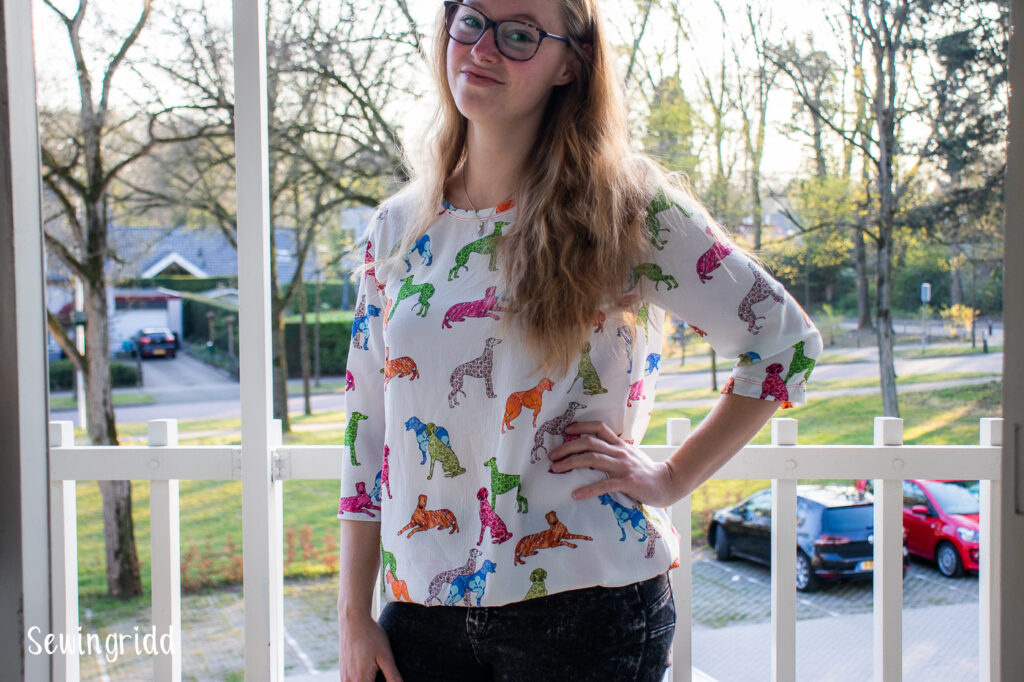 Yes! Spring has finally arrived! And even seriously, because today I was already sunbathing in my shorts. Spring is always a season that I am looking forward to for a long time. Just to realize by the time she is really there, how much I needed her! Everything starts tingling, everything is more beautiful, more fun, I like myself more, and therefore I put more effort to look nice. High time for a new top indeed, because the ones that are already in the closet are of course not nice enough.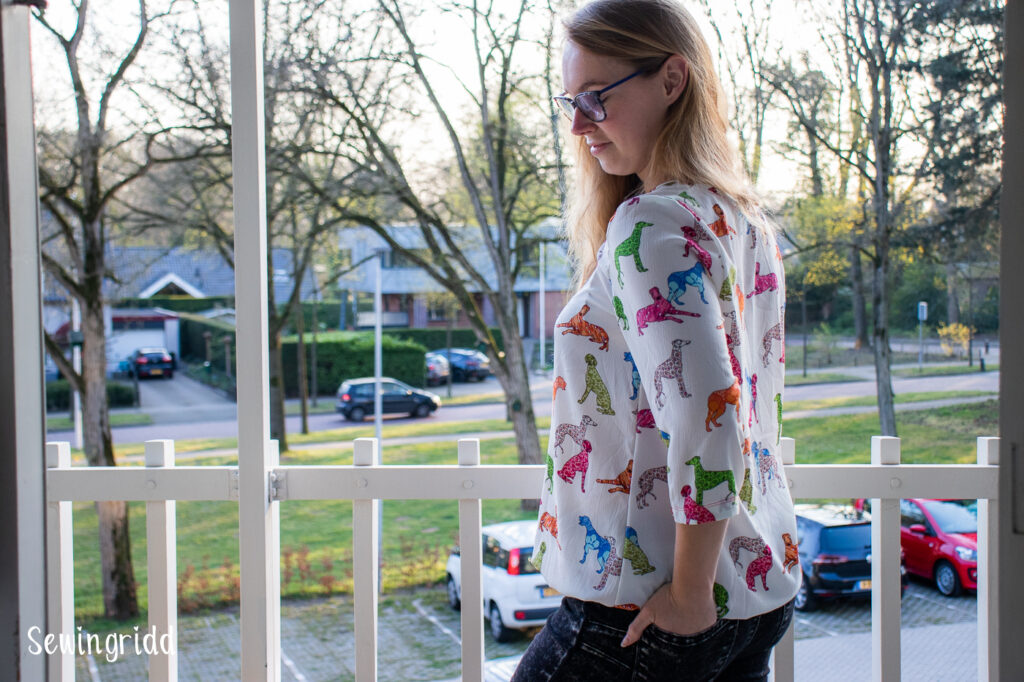 The fabric
I started my project with this woven fabric. It is a crepe with dog print that I bought last year on the local fabric market. Oh hey, that's the same market as the pants I showed you last week! When I was shopping there I suddenly realized that I had not bought anything for spring / summer, only dark colors. So when I saw this cool material I had to have it. It's a nice and cheerful print on white, perfect for when the sun starts coming out again. So if it is spring weather, from now on it's dog weather to me.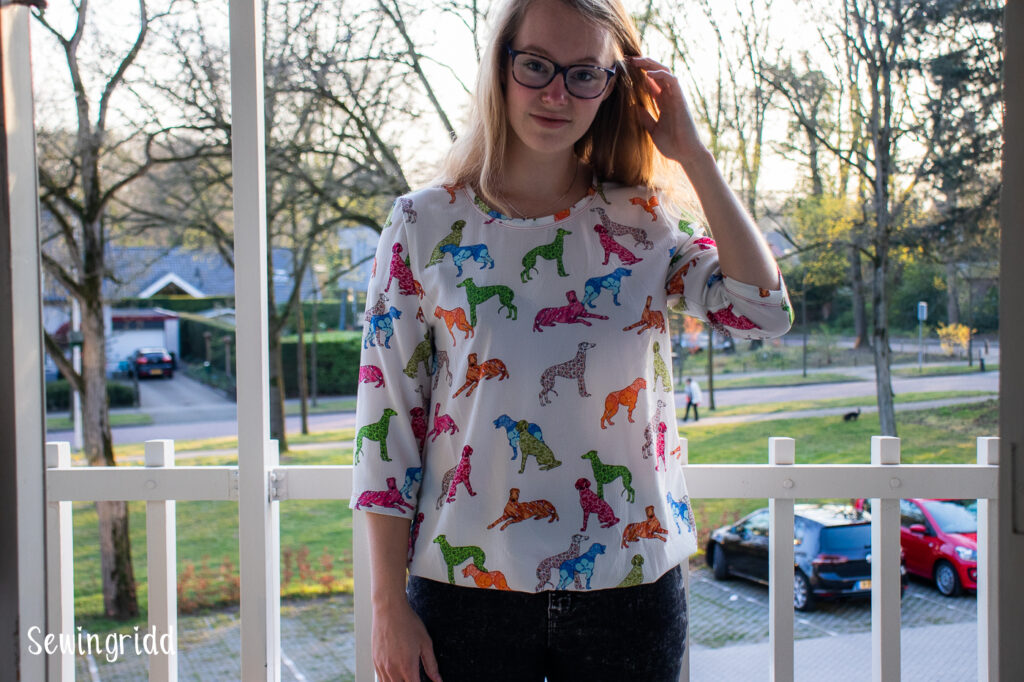 The pattern
The pattern I used comes from My Image issue #16, model M1811 (online: blouse Joan, S1082). I made a size 40. I got the tip beforehand that the pattern is quite wide, but I should not have sized down. It fits exactly, I hardly have enough space around the shoulders / armpits. So base your choice of size on your high bust size with this pattern.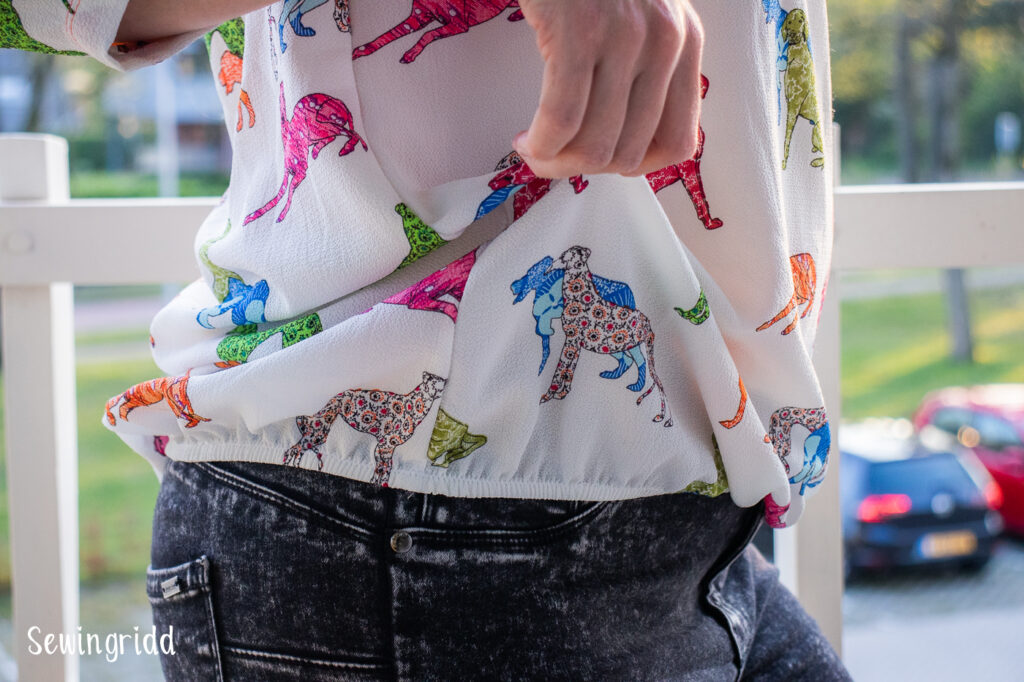 Modifications
I didn't really have to make alterations to the pattern. Although, next time I would probably cut it slightly wider at the armpits, so that it tucks less at the shoulders. One change I did make now is that I added an elastic band in the hem! Because I had to explain to my mom at least three times already what is the easiest way to add that, I wrote it here. Especially for her, and of course you:
How to add elastic to any pattern:
This is easiest on a straight hem like this blouse has. If necessary, it is useful to cut some extra length so that your top drapes nicely over the elastic. Adding length was not necessary on this pattern.
Finish seam (zigzag / serge)

Measure the desired length of elastic around the hips

Pin elastic in 4 quarters

Pin hem in 4 quarters

Pin together, use more pins

Stitch stretched elastic on seam with zigzag stitch

Fold the hem and sew over the elastic again so that it is nicely hidden. Sew the zigzag stitch just over the edge of the elastic so that it is encased and looks nicely finished.
Alternative method: Sew a tunnel in the seam. Then pull the elastic through.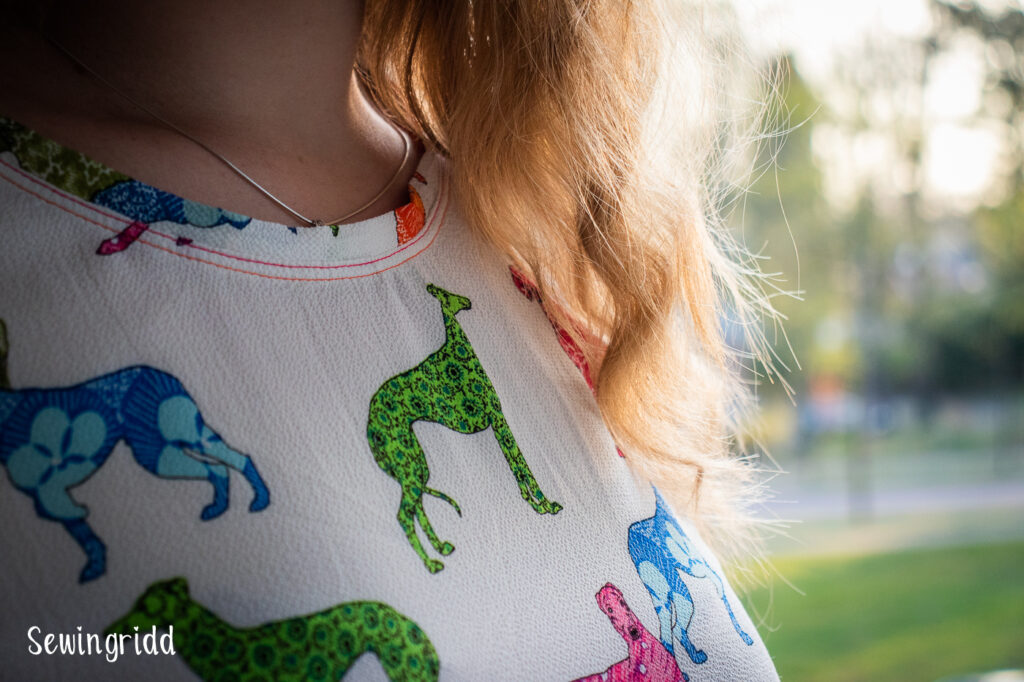 The process
This blouse would have been a quick and easy make, but it in reality it took me much longer than necessary. The blouse waited half finished for a while because I was struggling with a corona dip (why does everyone seem to have 1000 free time, except me?! Completely unreal, but that doesn't bother the brain) and then also because I couldn't decide on the sleeve length. In the end my mother helped making the decision. Turned out the chosen length was 1 cm shorter than the pattern, hahaha.
Also, the neckband was not so cooperative. It stand out at first, so I had to rip it off after I had just neatly serged and topstitched the seam. Fortunately, shortening the neck binding helped and it looks much better now!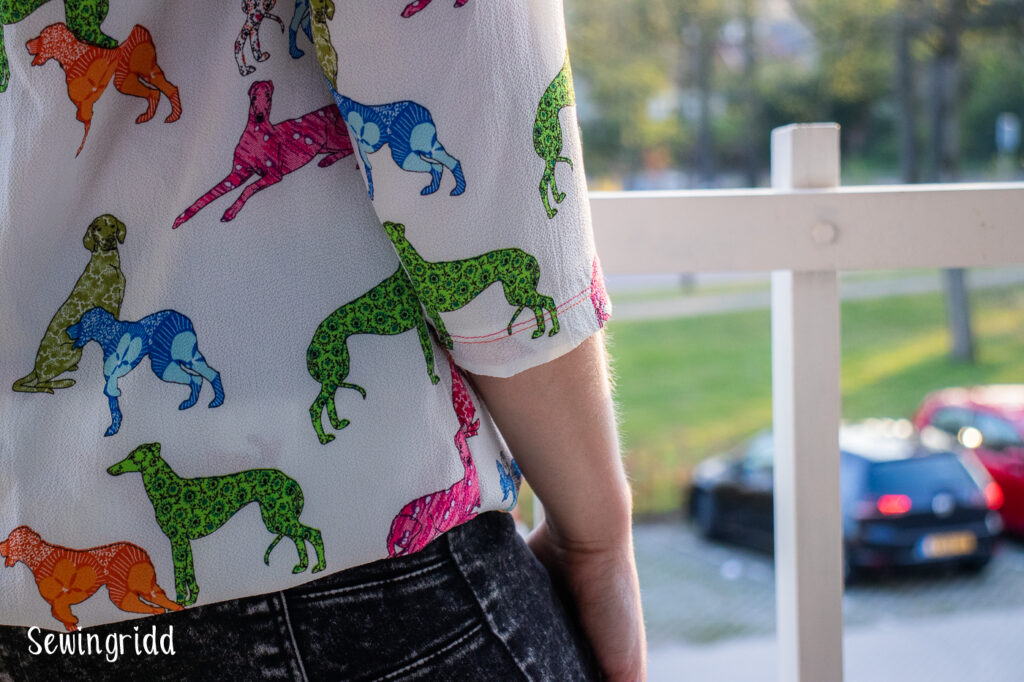 The finish
While sewing I became completely enthusiastic about the colors on the fabric, and wanted to reflect that in the finish. I had found matching green, pink and orange thread and wanted to use them all. All different colors for the neck, sleeves and hem. In the end, because of the elastic, I only had 2 places to topstitch, so I decided to double topstitch both with pink and orange right next to each other.
The result
I am very happy with the result! It really turned out as a super cheerful blouse, which is perfect for spring now. I'm even so excited that I use the pattern more often. Again with elastic added in the hem, because that fits well with my figure. Without elastic this pattern is a lot less fun I think. Just very wide, straight, duller, and a bit "saggy" haha.
So, for now, let's forget that I once promised myself that I would never exactly copy a pattern magazine (using the same fabric as in the example, for the same pattern). I just could not find a more suitable pattern, well… Fortunately, because of the elastic, it is not an exact replicate. 😉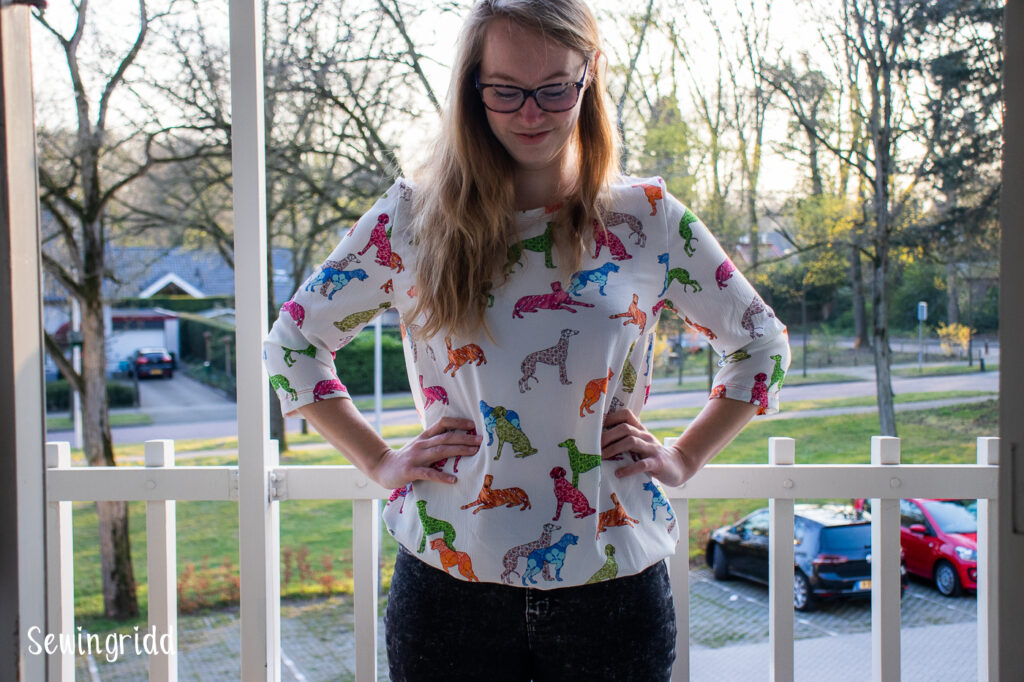 Do you already have spring in your sphere? All kitchen cabinets cleaned out? Or mainly super busy with life not going as you thought? That is all okay (I often have to say that to myself too), do it at your own pace and grant yourself some self-love!
Don't wanna miss anything? Follow me on Instagram, Facebook, Bloglovin' or Pinterest and subscribe to the e-mail notifications!