Fairelith Top – Happy Birthday Giveaway
Fairelith Top – Happy Birthday Giveaway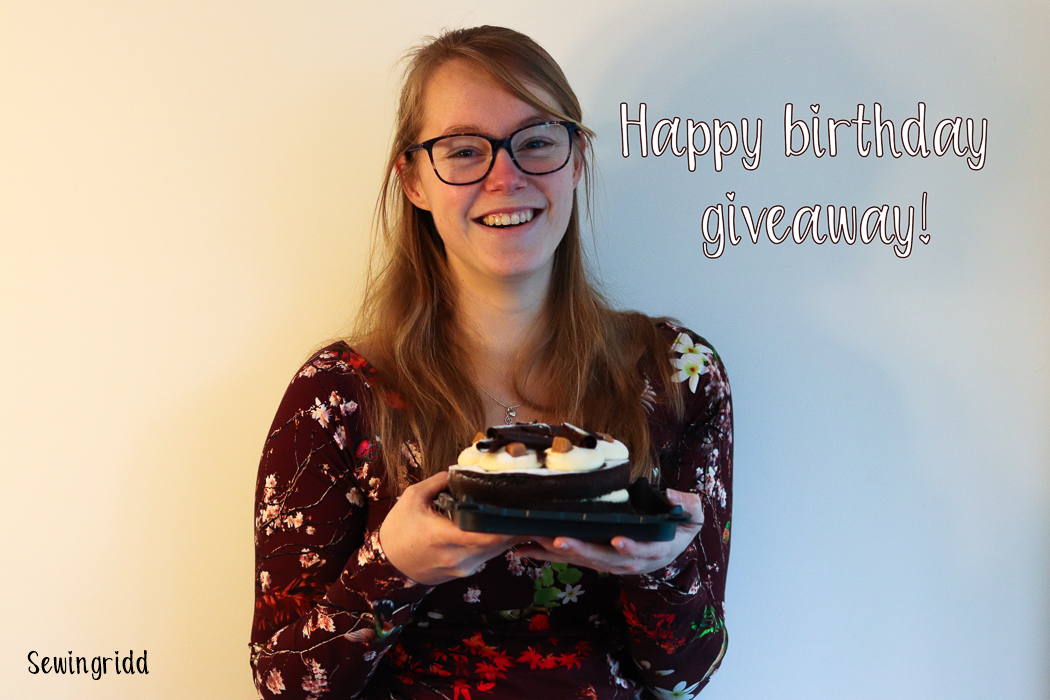 Hip Hip, hooray!
Happy birthday! And no, not to me this time, but for my blog! Today it's exactly one year ago that I launched this blog, so let's celebrate! With a new post of course, but also with a real giveaway. So continue on reading!
At a birthday party, you wear a nice festive outfit of course. So especially for this occasion I sewed one up! I chose to make the Fairelith top by Blank Slate Patterns. A pattern that I had never used, but had caught my attention before. And now the right moment, fabric and pattern coincided.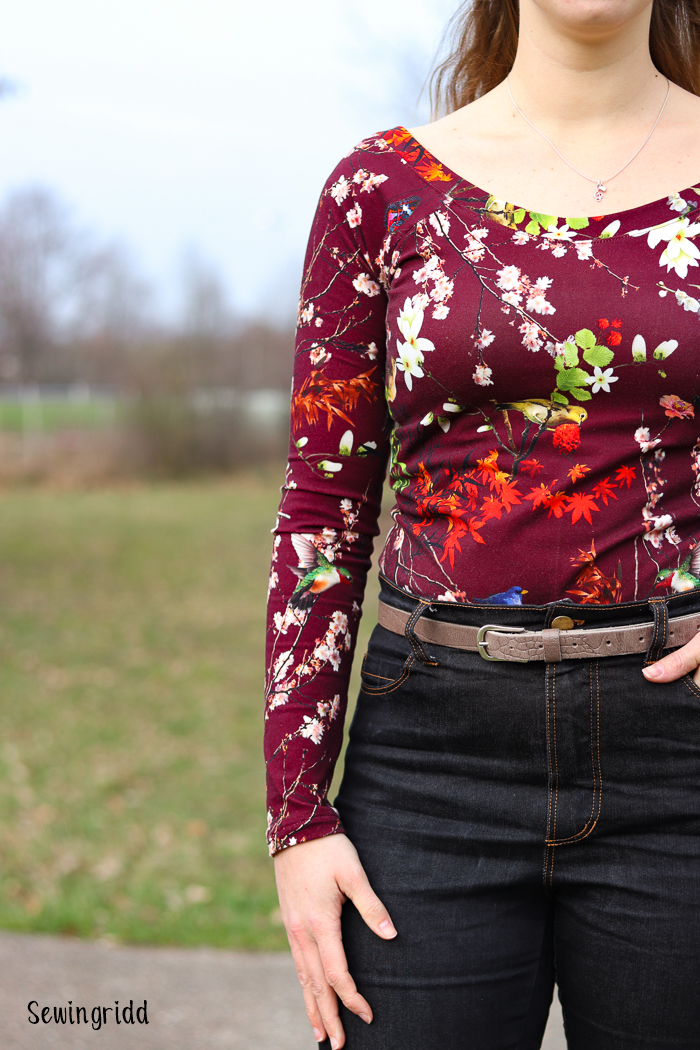 Fairelith
Because a basic does not always have to be standard! The Fairelith proofs that once again. With this pattern you can choose between a fitted or swingy version, with either short or long sleeves. But whatever which way you decide to go, the ballet neckline draws the most attention. On the front as well as on the back the neckline is round and wide, classy and feminine presenting the neck and cheekbones.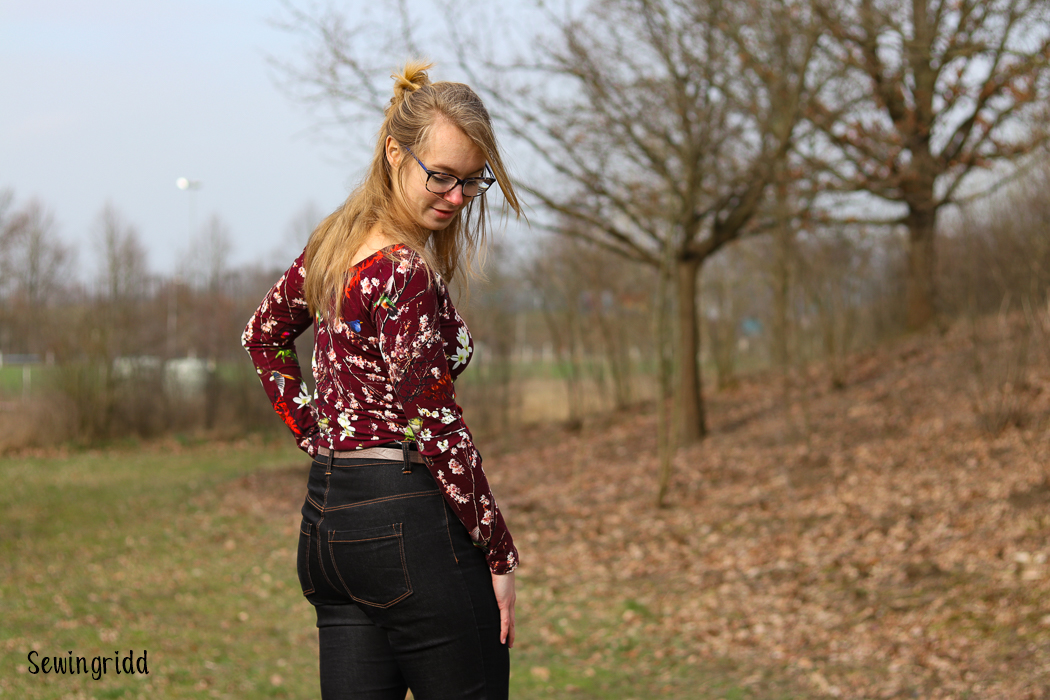 Of this pattern I made size M. At first I cut it size L on the waist and hips, but in hindsight that was not necessary. I took the shirt in again because there was too much fabric around my stomach, which made me seem unproportional. So the size M fit just right, except that my arms were a little too muscular for the sleeves, but that's easily solved. The pattern fits all nice and snug!
What I really liked about this pattern was that it came together so quickly! If everything goes well at once, you could wear your new shirt within just two hours! I also loved the description on how to adjust the pattern to your personal shoulder width. For myself I had to narrow it by one centimetre. With the help of these instructions that was a breeze. It prevents the trouble of a too tight neckline, or sleeves slipping down your shoulders.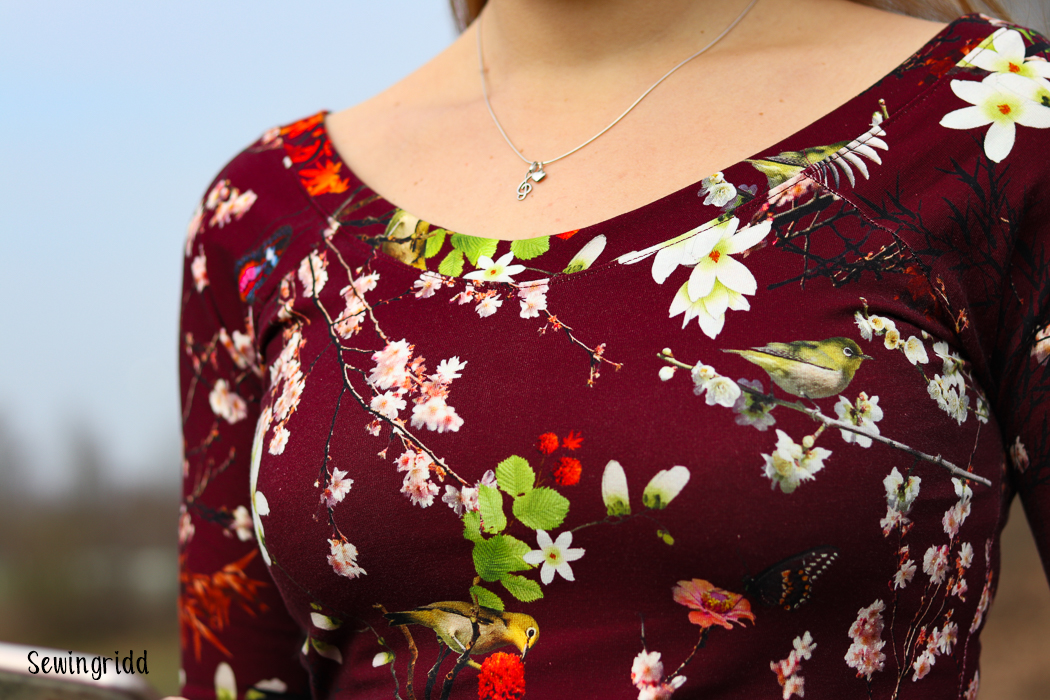 As a fabric I used this super pretty cotton jersey from the local fabrics store Harry's Stoffen. I immediately fell in love with the branches and birdies, and burgundy is just one of my favorite colours. The fabric was €15 per metre, and one of the most expensive fabrics I ever bought. You may understand it took a while before I was sure what I wanted to make out of it and had the guts to make the first cut. For that same reason I had to do with just 1 metre of fabric to cut out this pattern. With my size it wasn't impossible, but there is a seam on the centre back now. Luckily you hardly see that due to the busy print. So nice, this firm tricot is a perfect math with the Fairelith, also the neckband is nice and stable.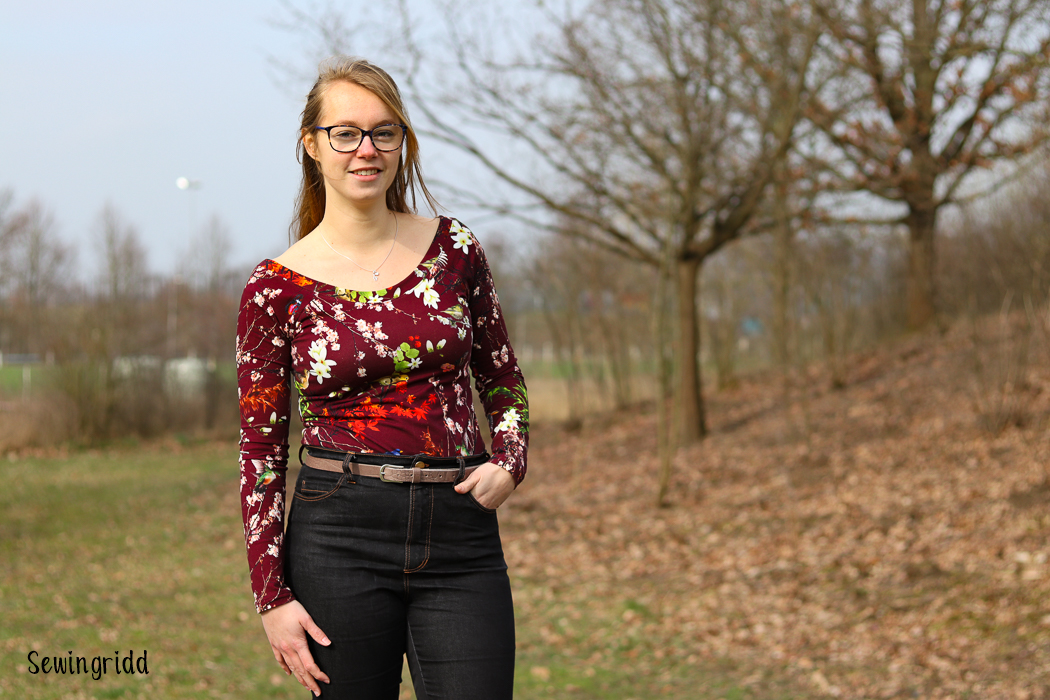 Looking back
Besides showing you something new today, after one year of blogging it is a nice moment to look back! The past 12 months have flown by! It feels like I've never not blogged. But a lot of things changed and happened. I received so much positivity back from you readers this year and hope to keep receiving more in the years to come! While this blog is ''a personal log of my most loved creations'', I never would have liked to keep writing this much without you loyal readers! That works two ways: it's nice to hear what you think and what tips you have, but also your makes and comments inspire me for following projects!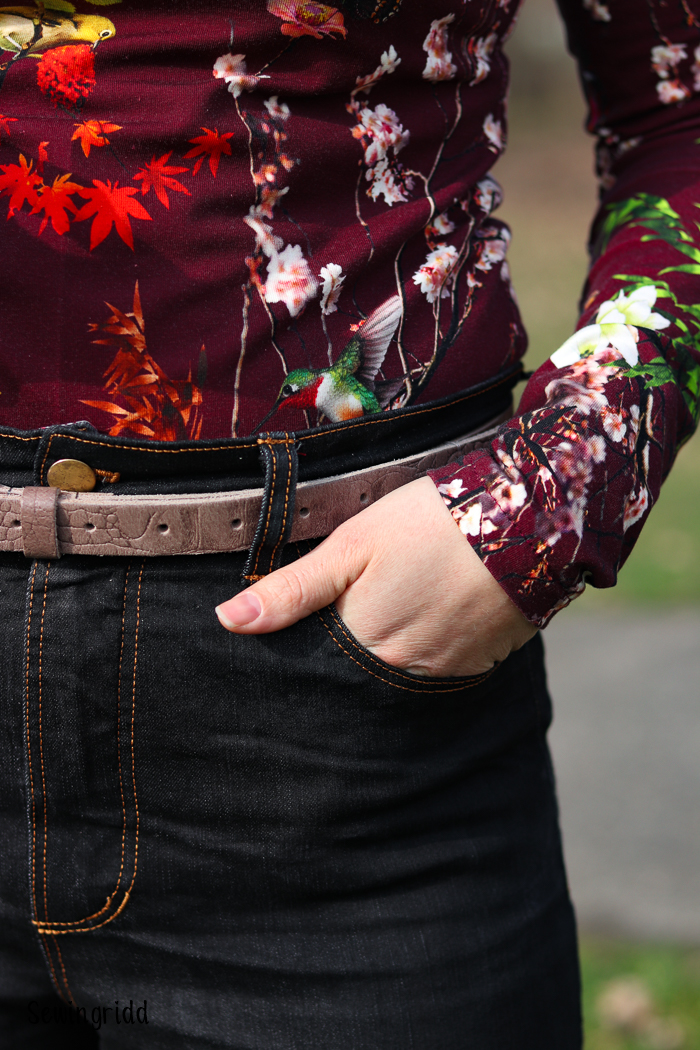 Besides that you guys also are my big stick <3. You might recognize that: you're working on a project and start to doubt if it all will turn out well, or that it takes more time than expected. I always tend to lay it aside and start on another project. Such a shame… Luckily this blog often helped me with the motivation to proceed. So, readers, loyal or newcomers, thank you for the nice year! You can expect a lot more words from my side, 'cause short-spoken I will never become, haha!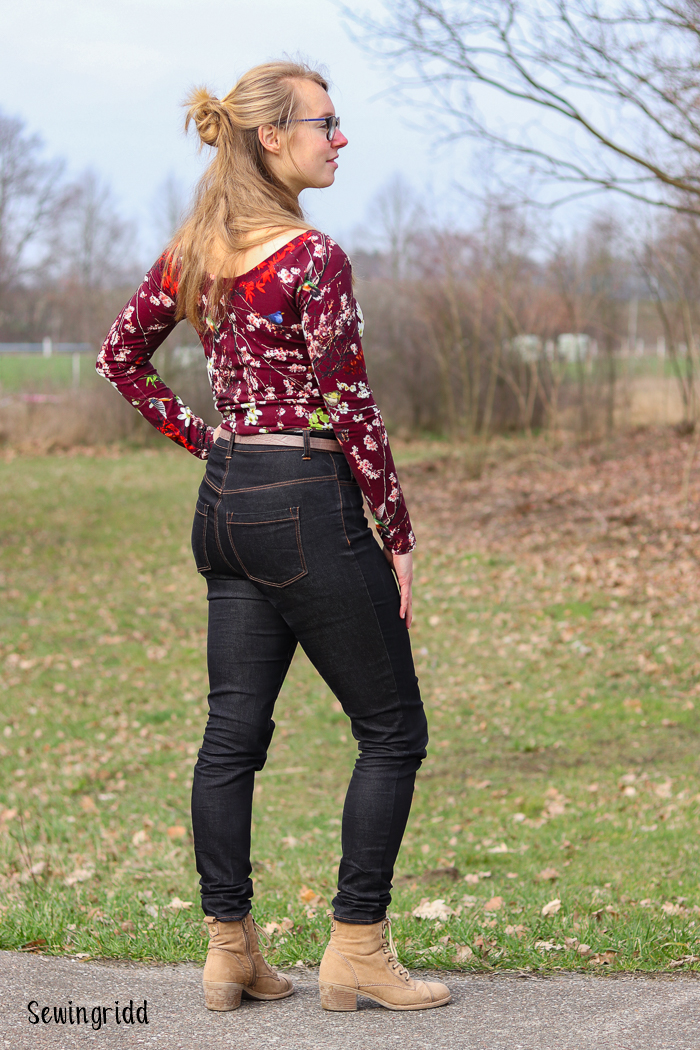 Wanna win?!
I'm sorry, the giveaway that was previously on this post has ended. But here you can buy the pattern!
Don't wanna miss anything? Follow me on Instagram, Facebook, Bloglovin' or Pinterest and subscribe to the e-mail notifications!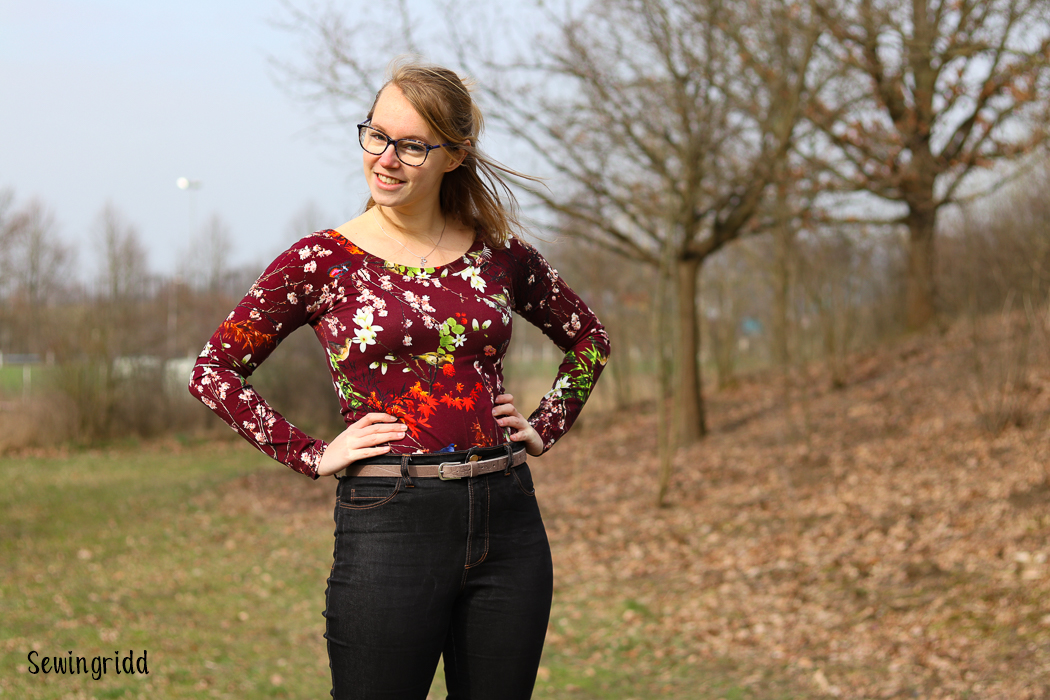 The Fairelith Top pattern was kindly provided by Blank Slate Patterns free of charge as part of their Brand Ambassador Program. Naturally, all opinions are my own. Additionally this post contains affiliate links which means that if you purchase from one of my links I may get a small commission.