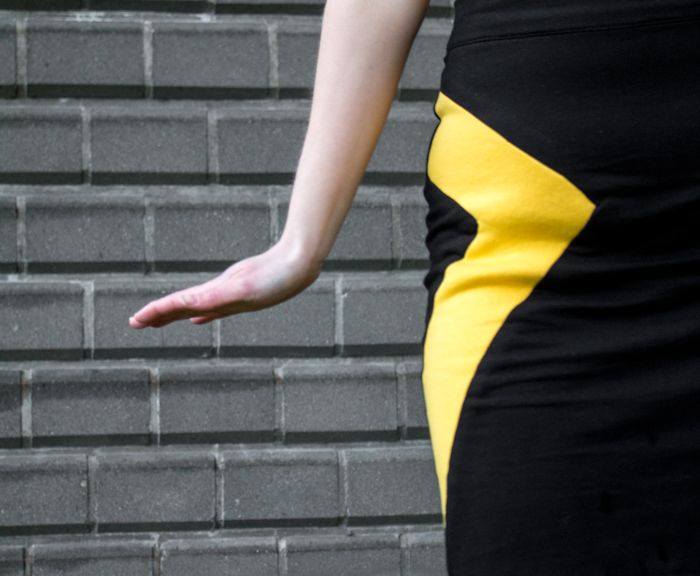 Graphic Art – Throwback Knipster Competition
Graphic Art – Throwback Knipster Competition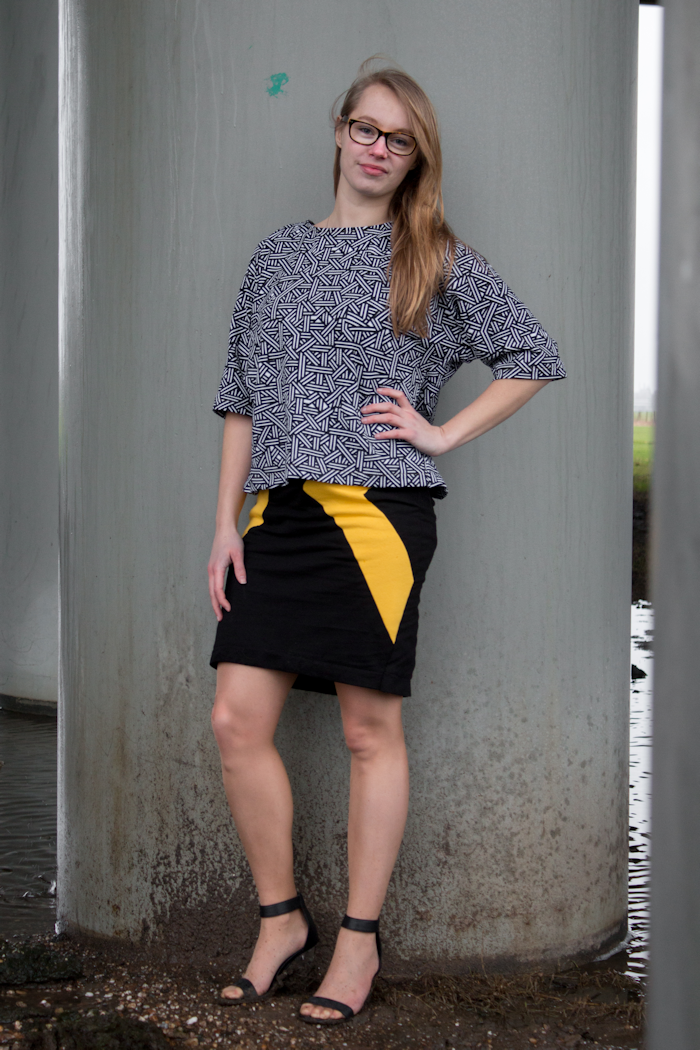 Last year I competed in a Dutch sewing competition called "Knipster". In my Knipster era I dedicated a lot of time sewing,  created a lot of clothes, acquired a lot of experience, and obtained a bunch of nice pictures. Therefore I feel like this part of my sewing life should not miss on the blog. In this blog series we'll look back on Knipster time and I'll tell you how I feel about my outfits now, one year later.
The Knipster Sewing competition kicked off with the theme "Graphic Art". This made me think about bold, black and white prints and angular shapes. It was one of the hardest themes to me. Luckily I finally managed to make a nice outfit. The fabrics I picked at Nooteboom Textiles and the world wide web provided me the sewing patterns.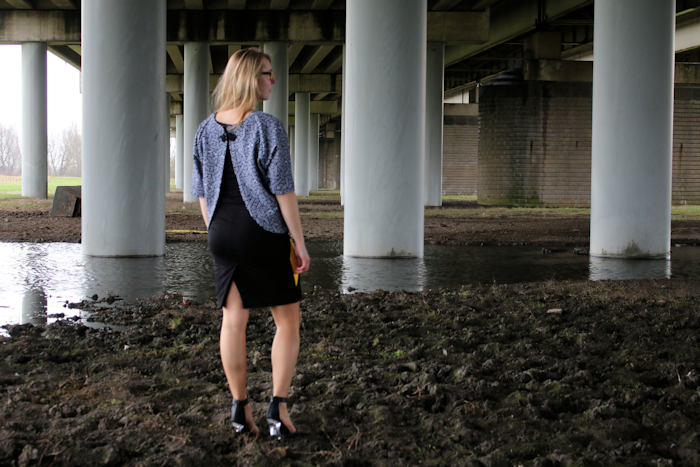 The patterns
I made this T-shirt using a pattern that came to me through a newsletter. I immediately fell for the open back! It closes with a baroque clasp and bra brackets. The triangular (almost raglan) shape of the sleeve inset really matches the theme. Tough it is hard to see because of the textured fabric and print, I think these are nice details.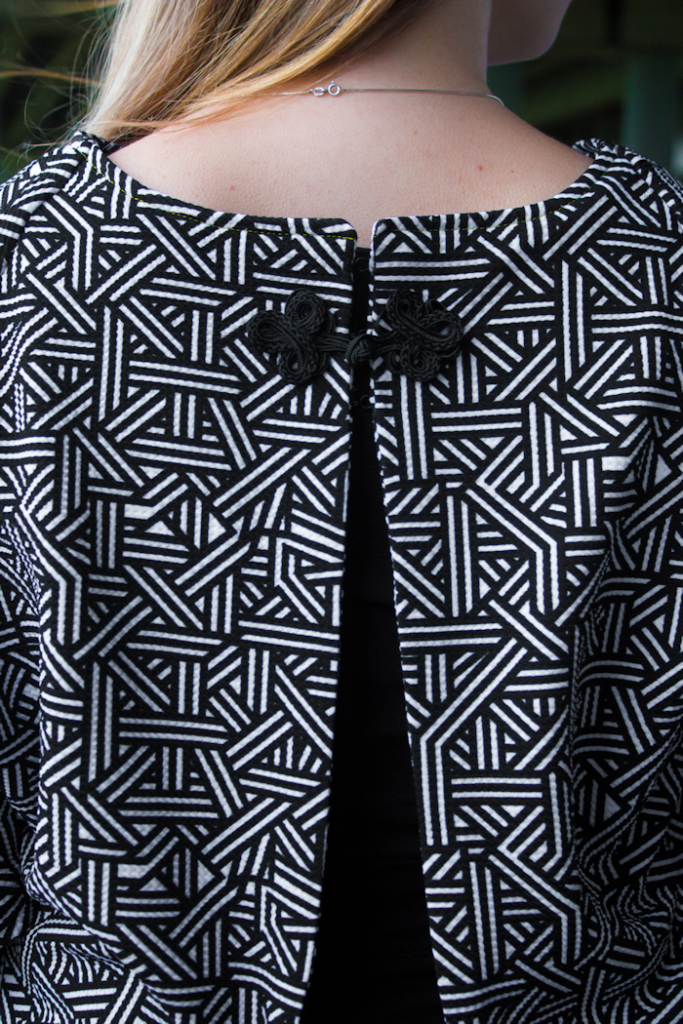 I used a very 'graphic' fabric for the top. I like a nice print, but just black and white is mostly too boring to me… My outfit has to contain some color because I think that's just more cheerful and dynamic. Additionally I feel like an outfit shows part of who you are and how you want to live your life, so in my case colors suit. Therefore I decided to make a skirt complementing my shirt. This pattern features triangular cut-outs giving me the chance to add some cheer! And again the shape matches the theme.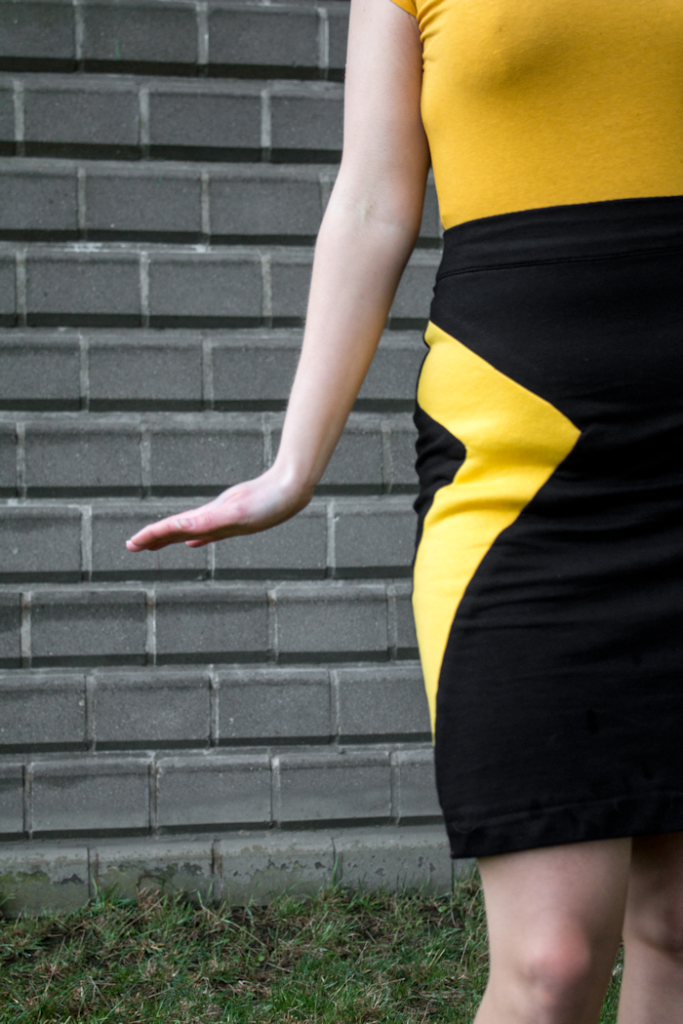 The making of…
The making of the T-shirt was prosperous. Only attaching the closures required some fiddling with needle and thread. Both back pieces I lined with the same fabric as on the outside. The front pieces I left unlined because that would be too thick and unnecessary (I hate special lining fabric:)). As a matchy detail I topstitched the seams and hems with the yellow thread from the skirt.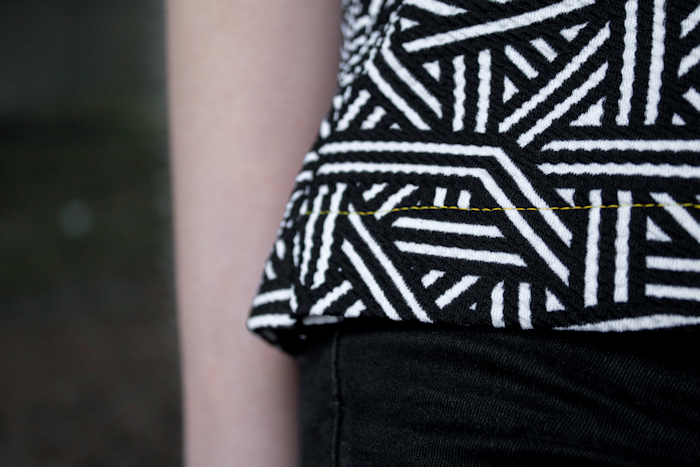 The skirt also seemed an easy make to me, but if I would have known how hard it is to sew neat corners, I would probably have never picked this pattern! Subsequently, it took me a a lot of time and alterations to make this skirt fit right. Something that really stressed me out at the time! Namely, on the Lekala website you order sewing patterns to your personal measurements, but because mine are apparently off ratio my patterns are sometimes too wide. In the end the skirt fitted really well, except that I forgot to add a zipper so it was a challenge to take it on or off… Let's say it was a beginner's mistake, haha.
As if that was not enough bad luck, the seams snapped every time I pulled on my skirt because my sewing machine was breaking down. Luckily I could borrow my mom's sewing machine for the rest of the competition (my parents even brought it to me while I was at the other side of the country!). We even arranged another sewing machine that I could use when I would be at their place on the weekends. Really loved all the support! But it was not the most prosperous sewing process ever haha.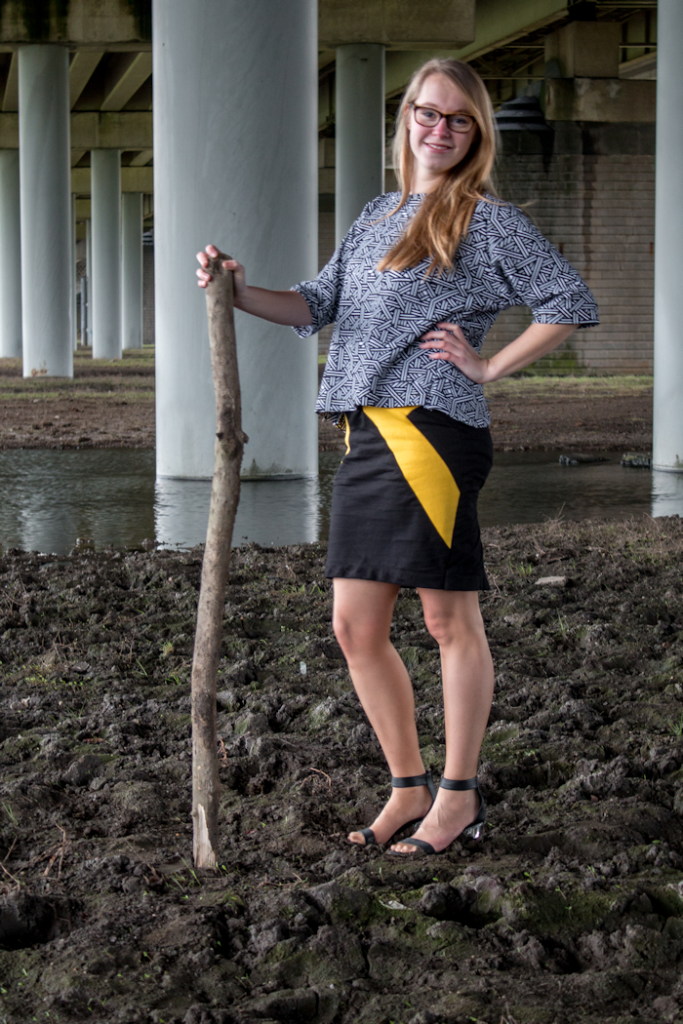 So now?
When I joined the Knipster competition I was not a very experienced sewist (not that I am now;)). That was one of the main reasons I decided making a skirt over pants. And of course there was the high time pressure. I did not want to make very complicated items because I would not be able to sew them up (and photograph and vlog them) within two weeks. Even though I really like the skirt, I have never worn it again. I hardly ever wear skirts, and if I do it's certainly not this type. I should have known, but now I learnt that it does not make much sense to sew skirts for myself, haha.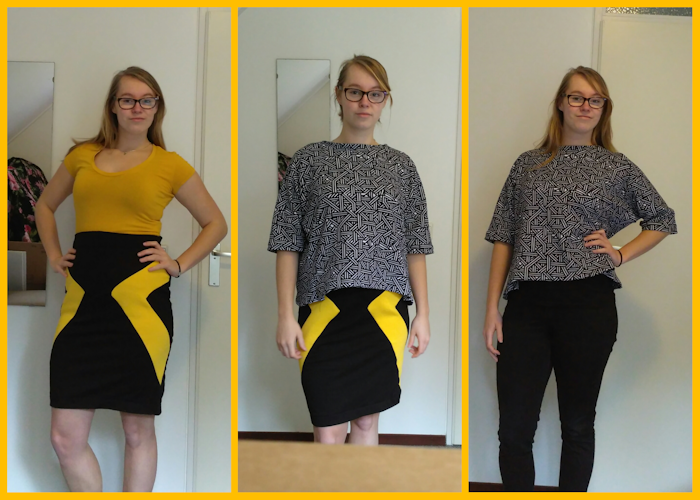 The T-shirt I have worn a couple of times. Unfortunately the length and shape of the sleeves do not ideally match with my internal thermostat. Given the weather in The Netherlands, the T-shirt is mostly too cold, because I cannot combine it with a cardigan or jacket. And when the temperature rises it soon gets too warm to wear the T-shirt because the fabric is quite thick. Also the closure on the back spontaneously opened up all the time. This has been solved by a few stitches but still this item ends up on the bottom of the pile in my closet.
Vlog
Here you can find the results of all contestants. If you'd like to see the vlog I made in these two weeks I've added it down here. I speak in Dutch but you might get an extra impression of what I did. 😉
Last but not least I really want to thank my dear friend Lian for the pictures she made! The weather was drizzly and our hands were freezing off, but still she managed to capture the outfit in all its glory.
And here are some bonus photos: