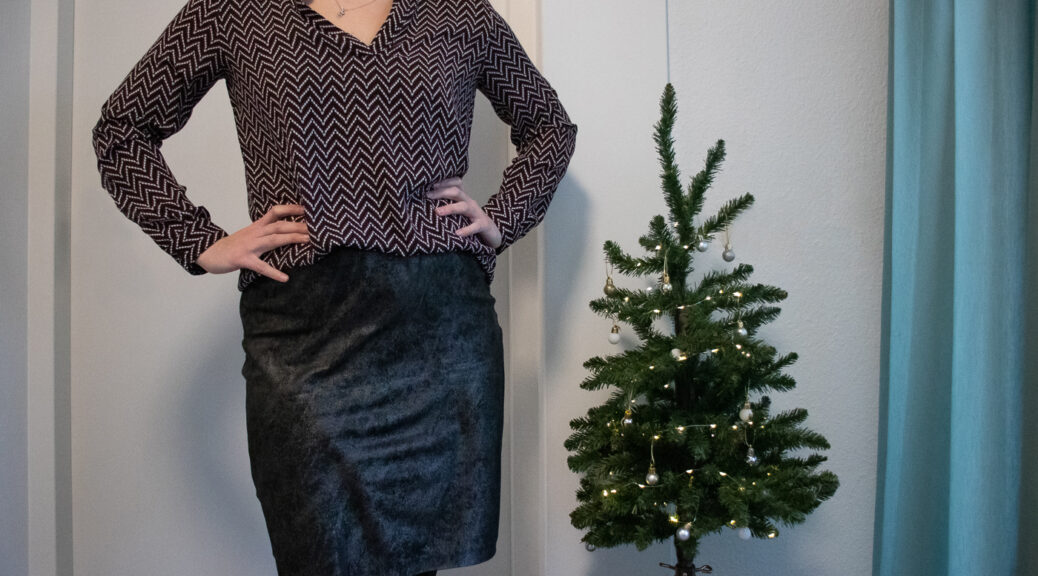 Create your own super simple (Christmas) skirt made to measure!
Create your own super simple (Christmas) skirt made to measure!
Merry Christmas everyone! Oh wait haha, that was a while ago, right?;) Yet today I want to take you back to that time, which is already a month ago. Namely, in this blog I will tell you how to draw a skirt to your own measurements, as I did for my Christmas outfit this year. I re-experienced how easy and effective that is, so I would like to share the method with you!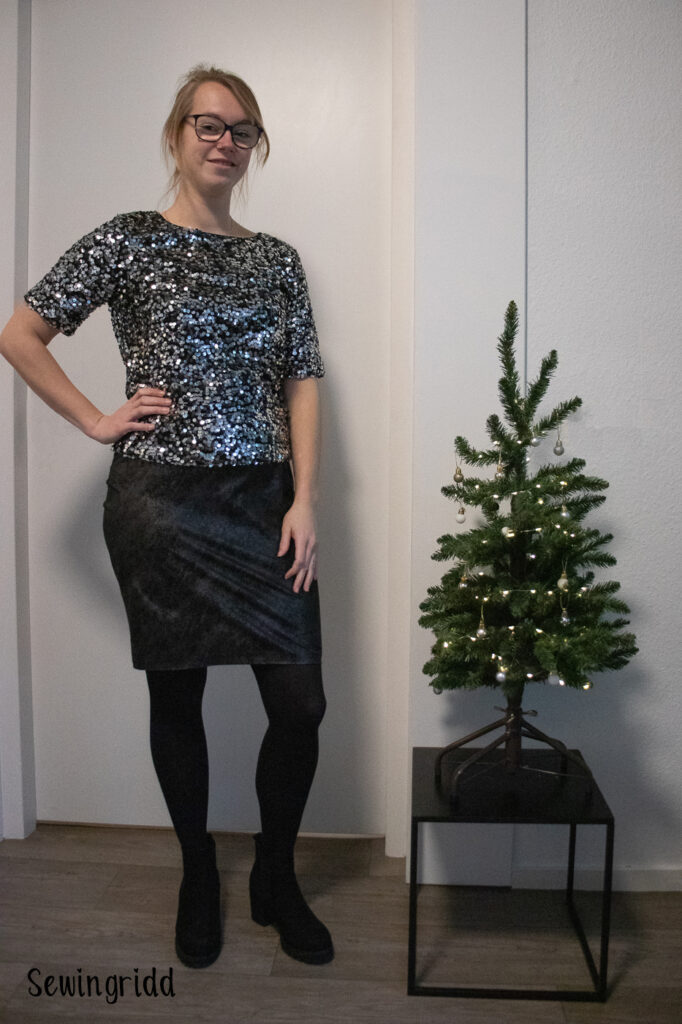 Let's do a little throwback to that time: Christmas was approaching quickly, so I decided to start thinking about my outfit. Oops, that caused me some stress, because I couldn't really find something suitable in my wardrobe. My fabric stash also didn't seem very adequate. Each fabric was either not suitable or not enough. Well, I know that Christmas is not about your outfit but about baby Jesus, but of course I wanted to look nice at that party!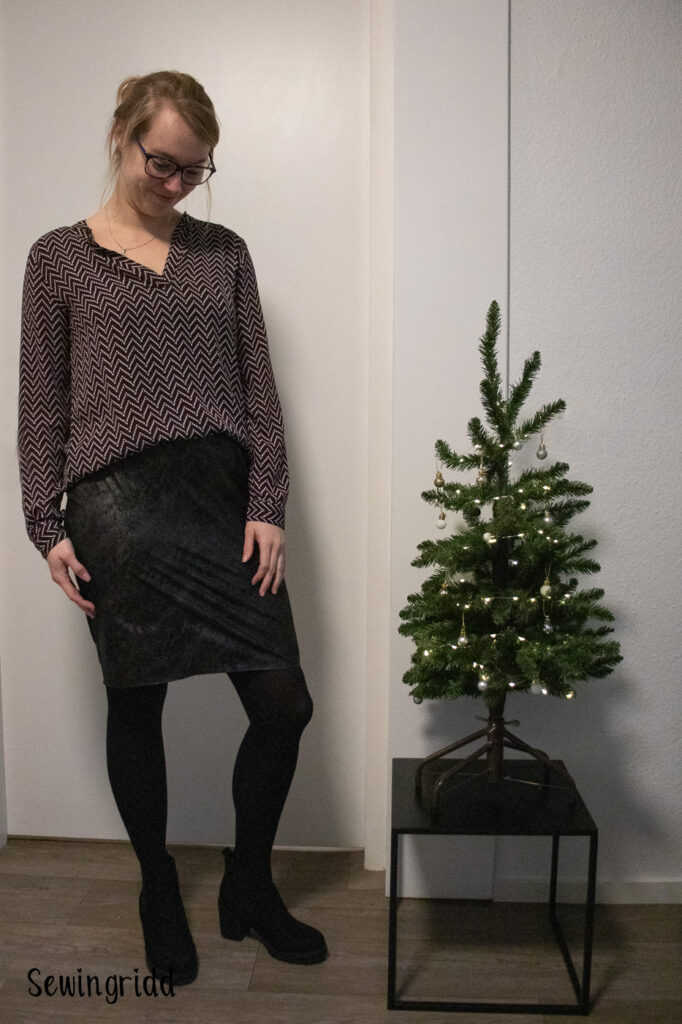 After some careful consideration, I finally went with a fabric: this silver foil print on black, non-stretch material. A remnant that I bought for € 1 on a local fabric sale. 😀 Now, after a few years of waiting in the closet, this scrap finally got a suitable purpose. It would become my Christmas skirt for 2019!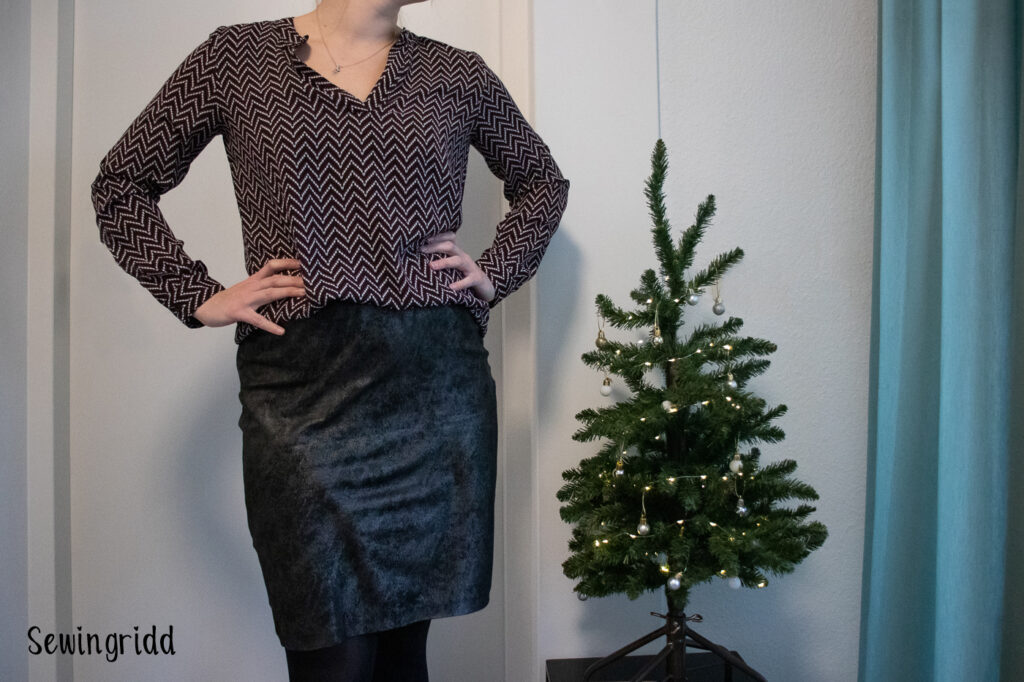 In the past I have often sewed this made to measure skirt for myself, my sister and my mother, but always from tricot. This time I had to work with non-stretchable material, so I decided to start all the way from the beginning. This is what I did and what you are able to do too: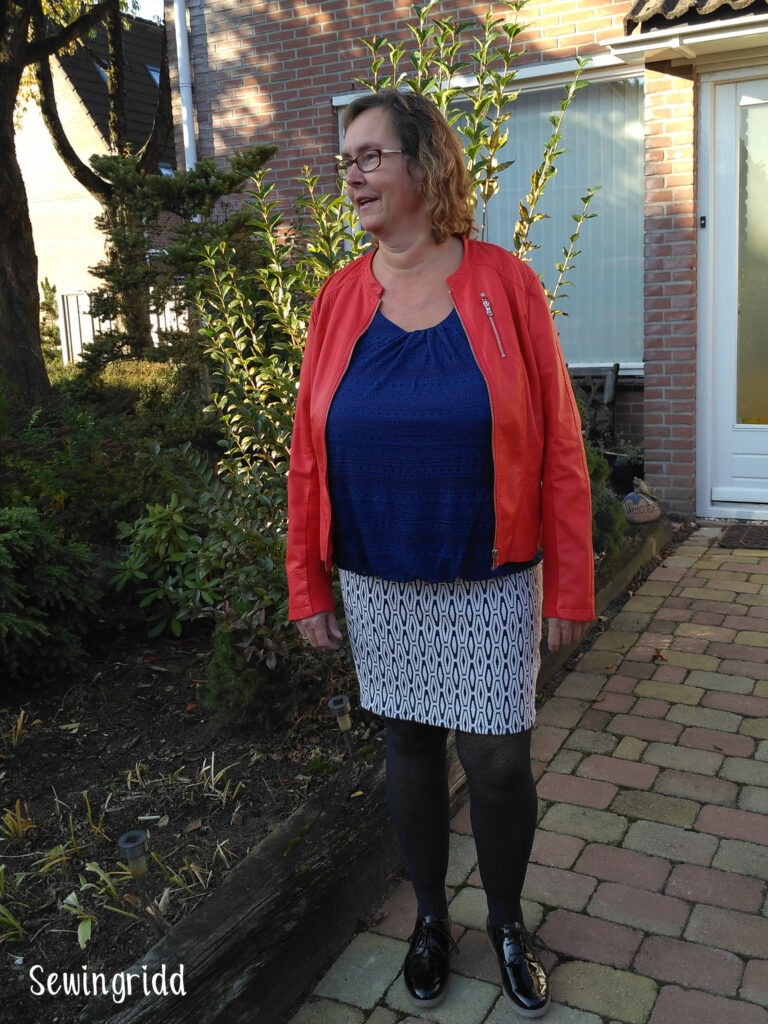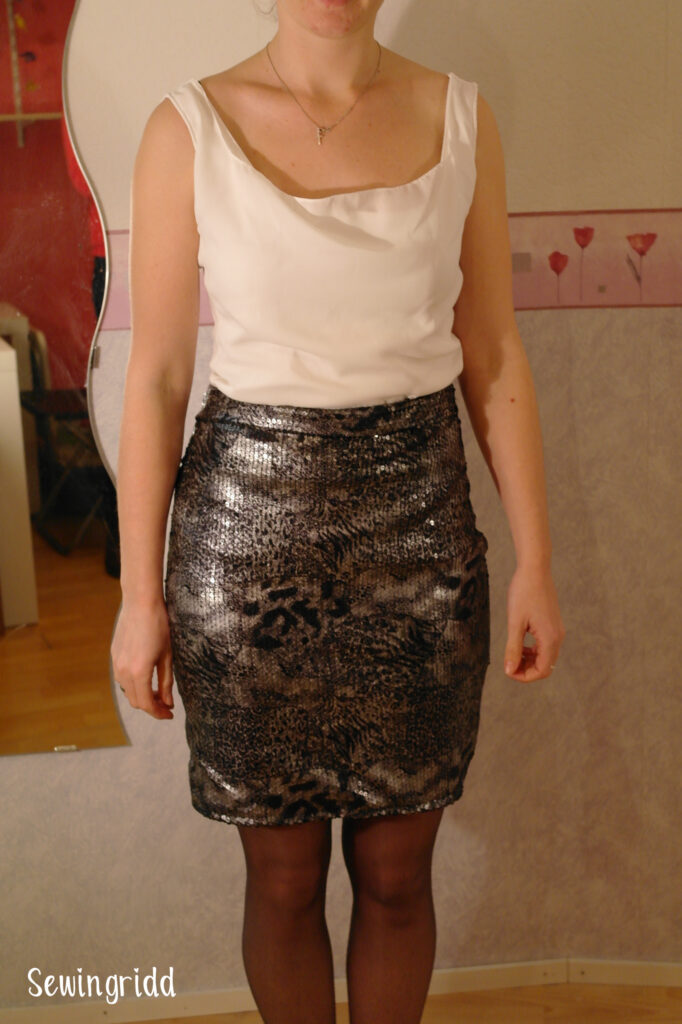 Necessities:
+-70 cm of fabric (depending on your skirt length and size)

Elastic

Threads

Pattern paper + pen

Tape measure and ruler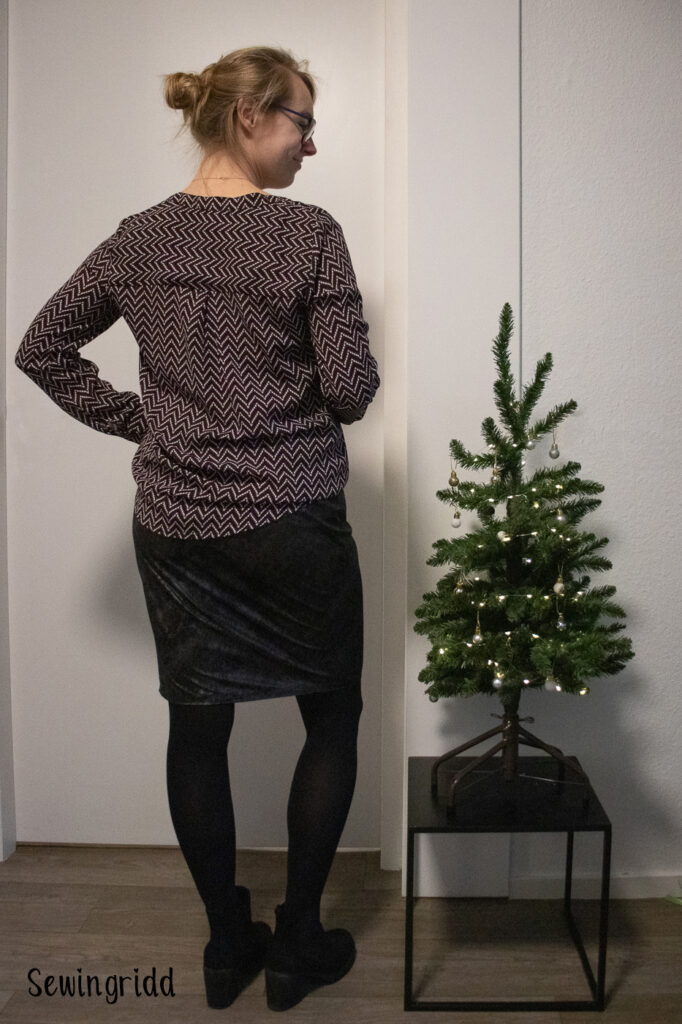 Method:
Measure your body and

draw the pattern

:

Start with one straight, vertical line = center front / center back
A. Desired length of the skirt
B. Distance between waist and hip
C. Distance between hip and thigh


D. Distance between thigh and knee




Measure your circumference at the following places.

Divide this size by 4. Draw a line of this length perpendicular to the center front / center back line
E. Waist circumference
F. Hip circumference
G. Thighs circumference


H. Knee circumference + room for walking (at the height where you want the skirt to end)

Connect the lines so that it becomes a

pattern piece

. If you do not have stretchy fabric, you may want to cut the skirt slightly wider, with tricot fabric you can cut it slightly tighter.

Draw the waistband. Length = waist circumference / 2. Width = desired height * 2 (mine is +-5 cm wide)

Cut

the skirt piece two times with the middle front / middle back line on the fold. Cut the waistband one time on the fabric fold. Add hem and seam allowances! When in doubt, it's better to cut a little wider than too tight.

Sew

the side seams.

Try on

the skirt to see if it is not too loose or tight and if you can still move. Adjust if necessary.

Cut

elastic

for the waistband. Determine the length by wrapping the elastic around your waist and feeling how tight you like it. Sew on the waistband with the elastic in it.

Finish the hems.

Doone! Now

enjoy

!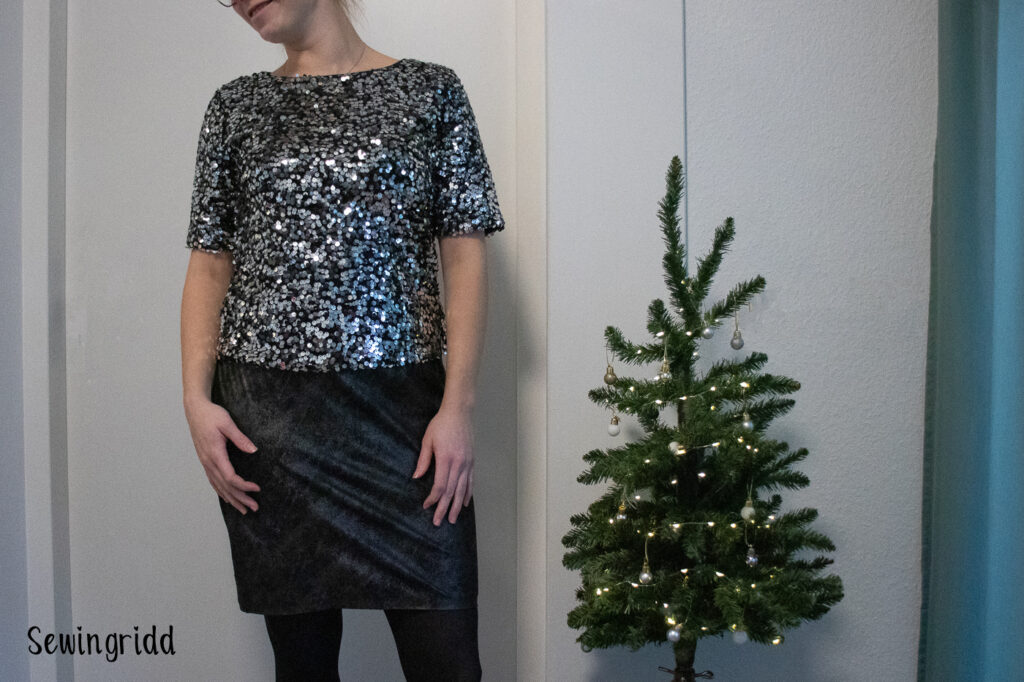 As you see it's not complicated to tailor such skirt! Mine was a bit too wide at first, so I took in the side seams before installing the waistband. I also added a dart at the center back, because there was too much room there. With earlier skirts (probably because of the jersey) this was never necessary, but now it was. Furthermore, it is also good to keep an eye on whether you need a zipper when using woven fabric! My waist is not much smaller than my hip circumference, so I can still pull the skirt on without a zipper. Maybe that also has to do with the fact that I left some extra eating space at the belly section; just because of Christmas haha;)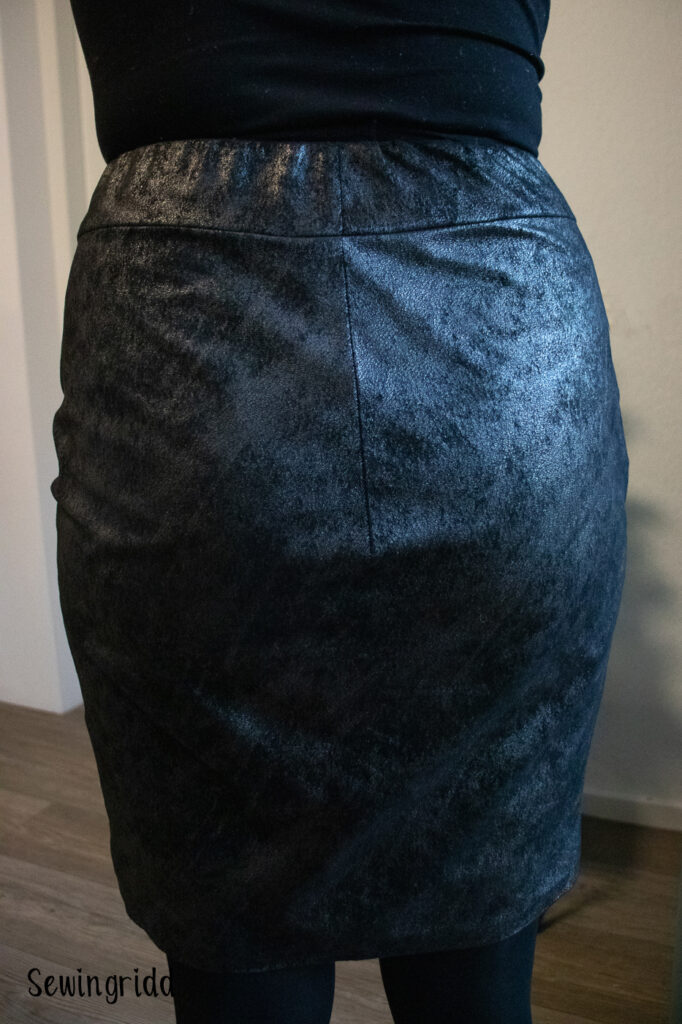 In the end I wore my skirt on Christmas Eve during our choir performance (paired with the sequin top) and at Christmas Day (paired with the blouse). Boxing Day (which is called ''second Christmas day'' in The Netherlands!) I was a bit done with the tights (but not the skirt) so I put on something else. I'm sure I can wear it again for some upcoming glamorous occasion. In any case, this skirt is more functional in the wardrobe than an unused fabric AND I did not purchase anything new for one-off clothing.😁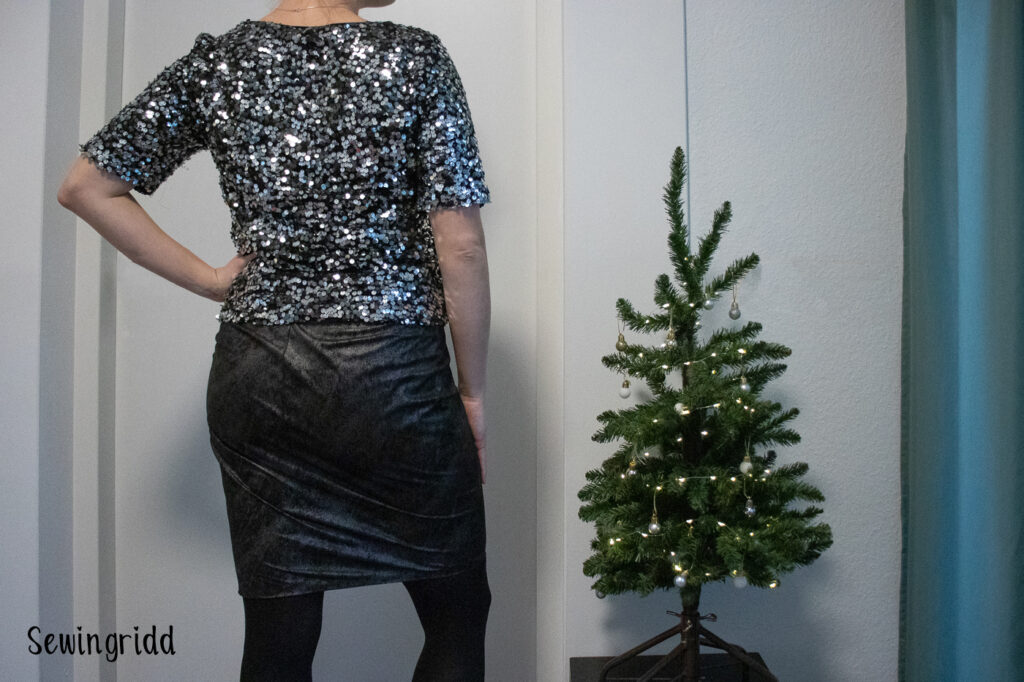 (Lastly: Pro tip for everyone with static clothes: use fabric softener whenever washing! Because of the synthetic fabric my skirt appeared very static in combination with the pantyhose during fitting, but luckily I was able to remedy that quickly thanks to a quick soak in diluted fabric softener! I tried everything against static clothes but this is the first method that really helps me! Since I wash with fabric softener, my staticsness has drastically reduced.)
 When are you going to sew your next skirt?!
Don't wanna miss anything? Follow me on Instagram, Facebook, Bloglovin' or Pinterest and subscribe to the e-mail notifications!