Why I need more Skye joggers
Why I need more Skye joggers
You have probably seen the blog about my first pair of Skye joggers. Those were a huge victory for me, because they were my first well-fitting handmade trousers and so they slightly eased my fear of pants! Well, I don't often use sewing patterns more than once (although I tend to more and more lately), but recently I've made myself another pair of Skye joggers. Of course, partly because I really liked my first pair. But most importantly, because that pair went missing!
In February I went on a city trip to Prague with my former students association. Although it was super super cold, I really had a great time. Prague turned out to be a super nice city, so I recommend going there! I might also go back there one day!
Well, when I go travelling I always consider the chance that some of my belongings get missing or stolen. Based on that I decide whether to bring (emotionally) valuable stuff, or not. But my pajamas were the last thing I expected to lose! Anyways, mine somehow ended up with hotel laundry. The receptionist searched, but it turned out my pajamas were at another location in the Czech Republic, far away from Prague… She promised to mail them to me as soon as they got back. She sounded really convincing, but I never truly dared to hope that would actually happen. Now it's already two months later so I don't think I will ever see my beloved Skye joggers again…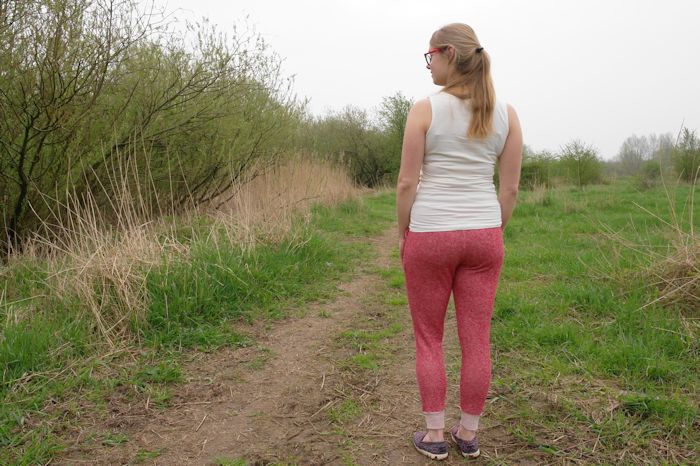 When the grief had finally faded a little, I decided to stop waiting and do what a woman's got to do: make myself a new pair of joggers! I searched through my fabric stash and there I found this nice red french terry. I bought it about 3 years ago, on the first fabric market I ever went to. It was always supposed to become sweat pants, but I just never sewed it until now.
Since I knew the pattern fitted right (and I had sewn 56 baby pants just like this pattern, except those did not contain pockets, see my instagram), I sewed my second pair of Skye's up really quickly. I used mainly my serger for the process. Specially for this occasion, it was equipped with red threads. Just because I looove matching serger seams, and do not mind rethreading my machine!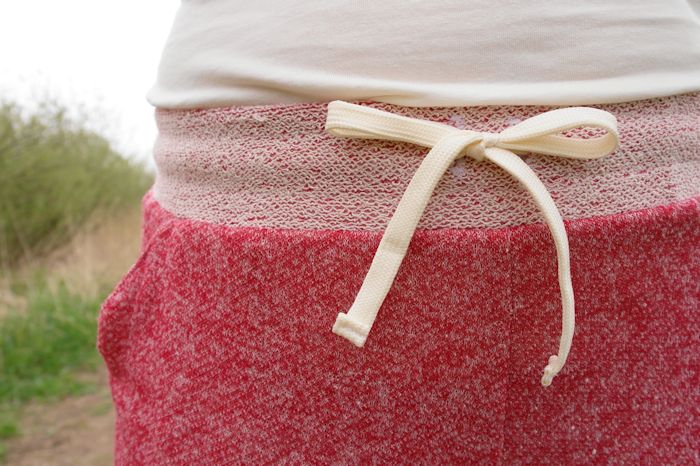 For the waist and ankle bands I had searched for different fabric to use. To me, the pants would become a little boring if I only used one colour of fabric. When I could not find anything, suddenly the idea popped to use the 'wrong side' of the same fabric! I think this was the right way to make the pants a little more interesting. Other fabrics were mostly too bright namely, while this shade matches perfectly.  As a final detail I decided  to add a drawstring to this version.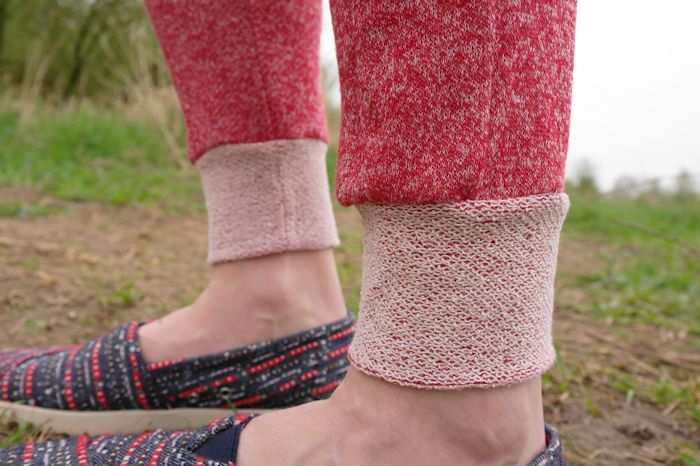 This version of my joggers is not perfect still. The french terry is actually a little too thin and sloppy. Also the pocket openings are gaping, even though I reinforced them with fusible interfacing. Just when I was done sewing I came across some super cool ideas for adding sports stripes and piping that I would have loved to involve. For that reason these will not be my last pair of Skye joggers! Also my sister liked the sweatpants too, and requested a pair for herself.
Do you use your sewing patterns more than once normally, so you know that they fit right? Or are you an adventurous type and always start again from scratch?