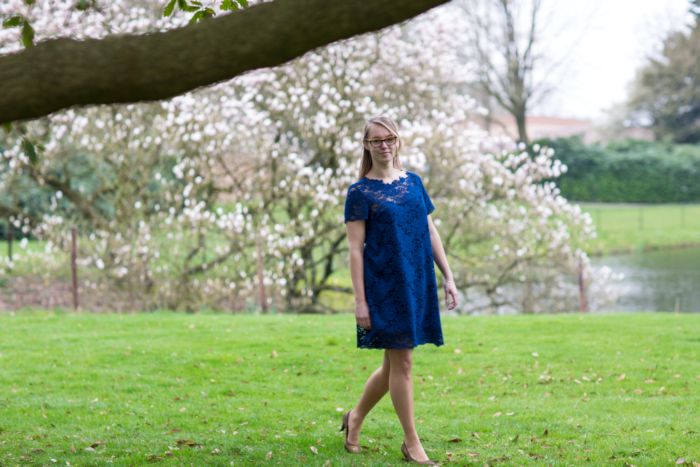 Sweet Romance – Trowback Knipster Competition & winner Catalina Dress pattern
Sweet Romance – Trowback Knipster Competition & winner Catalina Dress pattern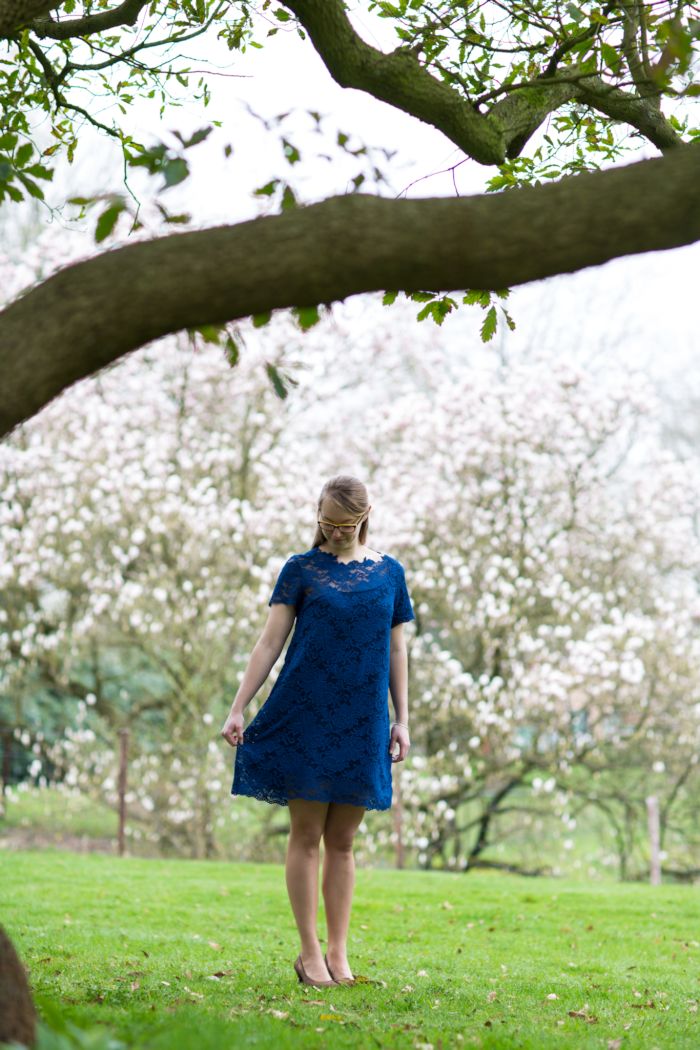 Last year I competed in a Dutch sewing competition called "Knipster". In my Knipster era I dedicated a lot of time sewing, created a lot of clothes, acquired a lot of experience, and obtained a bunch of nice pictures. Therefore I feel like this part of my sewing life should not miss on the blog. In this blog series we'll look back on Knipster time and I'll tell you how I feel about my outfits now, one year later!
The third assignment we got was to make an outfit on the theme Sweet Romance. I had a lot of ideas for this theme. In first instance I wanted to make a short dress with lace on only one shoulder. But on the other hand I love flowery prints, so I also wanted to do something with that… It was not until the moment we were to pick our fabrics at Nooteboom Textiles, that I made my decision. When I saw this fabric I was SOLD. Although it was not what I was looking for (navy is not the first colour I'd call romantic), I had to use it. So for this outfit my aim became to really show off this beautiful lovely lace fabric!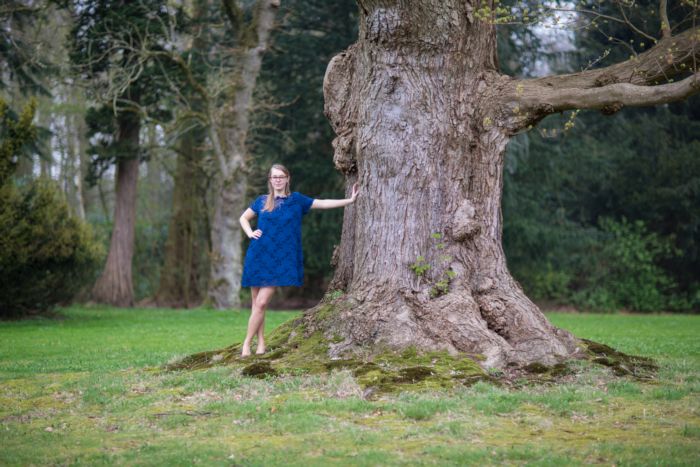 The pattern
Exactly that week the new Knipmode came out, where I saw this pattern. It's from the Knipmode wedding attachment of April 2017. I thought this fabric would look best in a garment with few seams and details. On top of that I thought it would probably look good on me.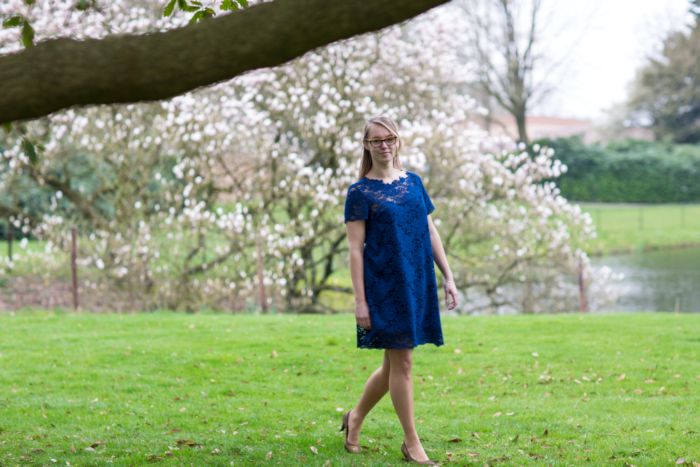 The making of
Using this pattern I still wanted to go with the one sheer lace shoulder. To do that I had to adjust the pattern, but because I did not exactly know how to, I first sewed up the whole dress in the lining fabric. Then I put it on my dress form and just drew a line, tried it on, adjusted, and cut the new neckline (with seam allowance of course). To finish this neckline I drew and cut new facing. For cutting the lace I used the original pattern.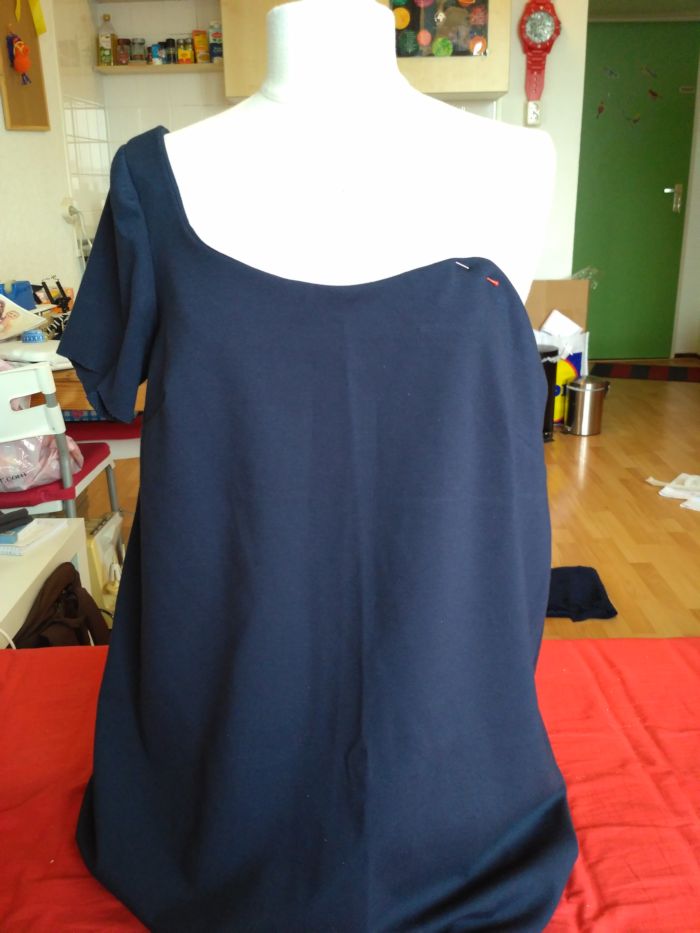 When trying on the lining dress, I noticed that it was way too long for me, causing it to look saggy and my legs to disappear. For that reason, I decided to also shorten the pattern by 10 cm. The lace layer is a little bit longer than the lining though so that lovely scalloped edge is clearly visible.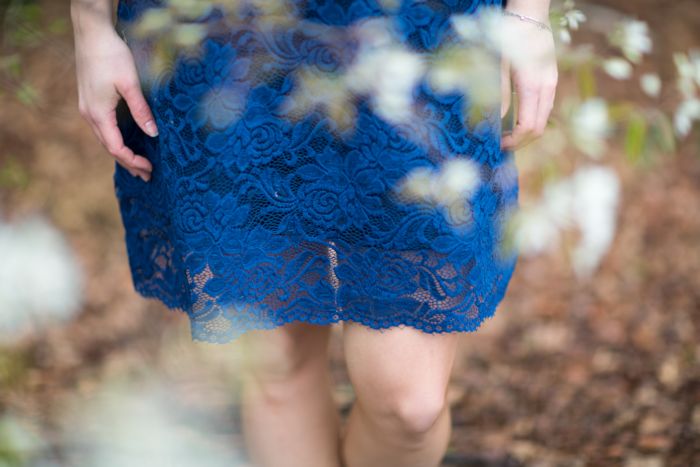 As you can see I did not hem the neckline. Instead I cut the fabric around the lace flowers. Personally this is what I love the most about the dress, haha. For the sleeves and bottom hem I carefully cut the selvedge off the scalloped edge. Something that does not stand out, but, to me at least, is a nice detail, is that there are no ordinary side seams on this dress. To achieve this I first marked where the seam should be, cut the fabric around the lace flowers and then overlapped the back and front pieces, approximately lining up the marks. This I double stitched using a zig zag stitch and then trimmed off the excess lace at the inside. In the vlog below I also explain (in Dutch) how I did this. This way the side seams became almost invisible, although the shape of the garment was not disturbed.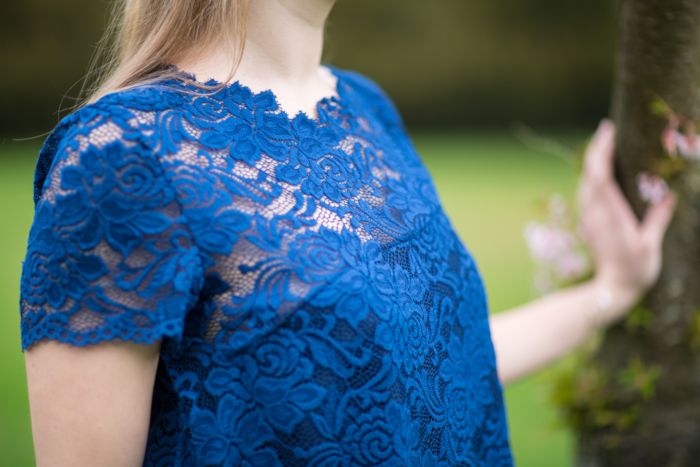 So now…
This is one of the few Knipster garments that I actually do wear sometimes! Not to my job of course, cause it's way too fancy and nice for that;) But I've worn it for example for my graduation and multiple wedding parties! I love the way it feels and looks. It's fancy but uncomplicated to wear. Although I have to be aware to not hook the lace to things like chairs and bags and bracelets.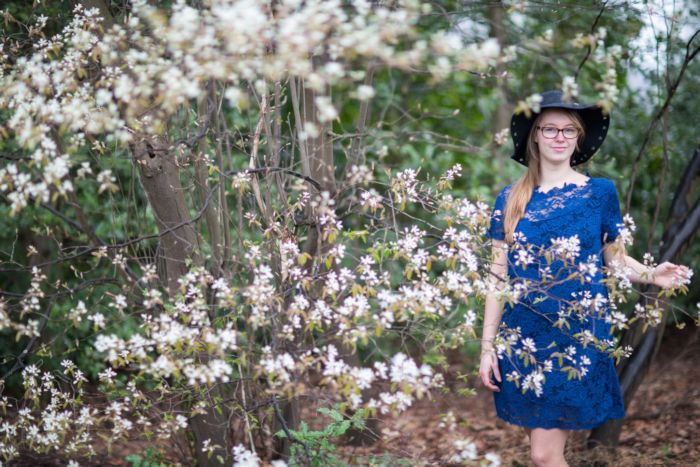 The only thing that is really unpractical, and that I do regret, is the weight of the lining fabric. When at Nooteboom Textiles, I searched for a tricot in the right blue colour. This was the only fabric matching the lace, so I went with it, but the lining is actually way too heavy for the lace. If it weren't for the one unlined shoulder, there would have been no problem. But now the lace stretches out under the weight of the lining. To compensate for that I always attach the lining (under the sheer shoulder) to my bra using a small safety pin. That's also a nice way to make sure that it does not get too sexy, haha.
In the end I just do love this dress and I won't throw it away anytime soon! If that's a way to measure, haha! Have you worked with lace before? What did you make or why didn't you?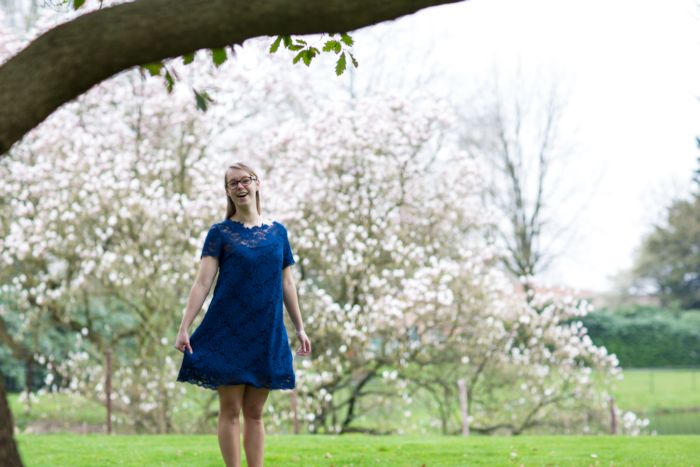 Vlog
Here you can find the results of all contestants. If you'd like to see the vlog I made in these two weeks I've added it down here. I speak in Dutch but you might get an extra impression of what I did. 😉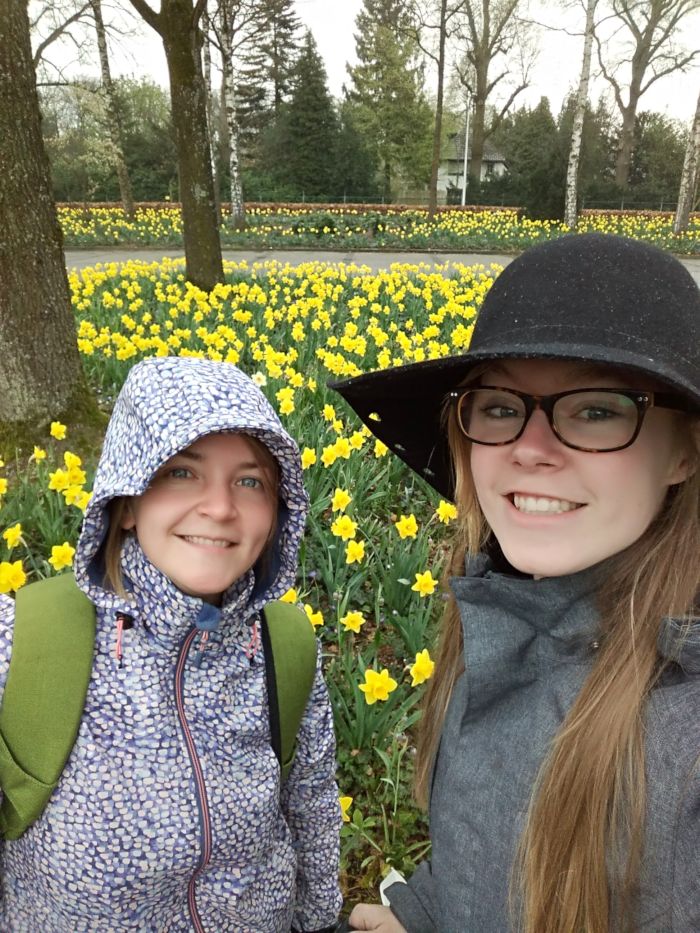 The winner of the Catalina Dress pattern
Today is also the day to announce the winner of the Blank Slate Patterns Catalina Rerelease Party Giveaway! I loved all your nice comments to my previous post, but only one person could win. And that lucky person is:
KarinKay
Congratulations! We are looking forward to see your version of the Catalina Dress soon! I'll send you an e-mail so Blank Slate Patterns can hand you the Catalina Dress pattern. For all who were not lucky enough to win: the pattern is always available through this link.