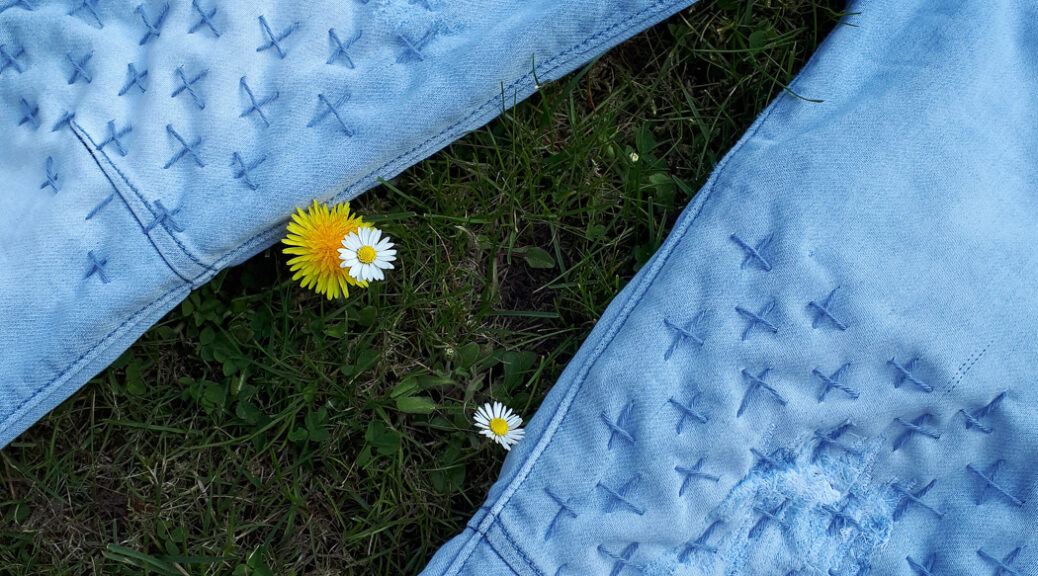 Visible Mending – Jeans Rescue
Visible Mending – Jeans Rescue
It's Fashion Revolution Week this week! During this week you are invited to ask your favourite fashion brands "Who made my clothes?" If we all do this at the same time, hopefully we will make them think think about it! Thinking about fair wages, healthy working conditions and security for employees, but also, for example, the impact on the environment. We must of course work on and advocate for a more sustainable fashion industry all year round. But at least let them hear from you this week. Small effort, huge effect! Check this page to see what you can do. 
The things I try to pay attention to, to hopefully contribute to a better fashion industry are:
Only buy what you are really going to wear, because #LovedClothesLast (applies to clothing and fabric, difficult!)

Willing to spend a little more for your T-shirt, for example. Minimal price = often minimal manufacturing conditions = often minimal quality = often minimal wearing pleasure and especially less loved.

Give away clothes that you no longer wear instead of throwing them away (for example on clothes swap evenings, those are even super much fun)

Reuse old shirts as pajamas #ReuseReduceRecycle

Make new combinations with older garments

Holes / mistakes are easily repaired

Wear pants until they are really worn out and fall apart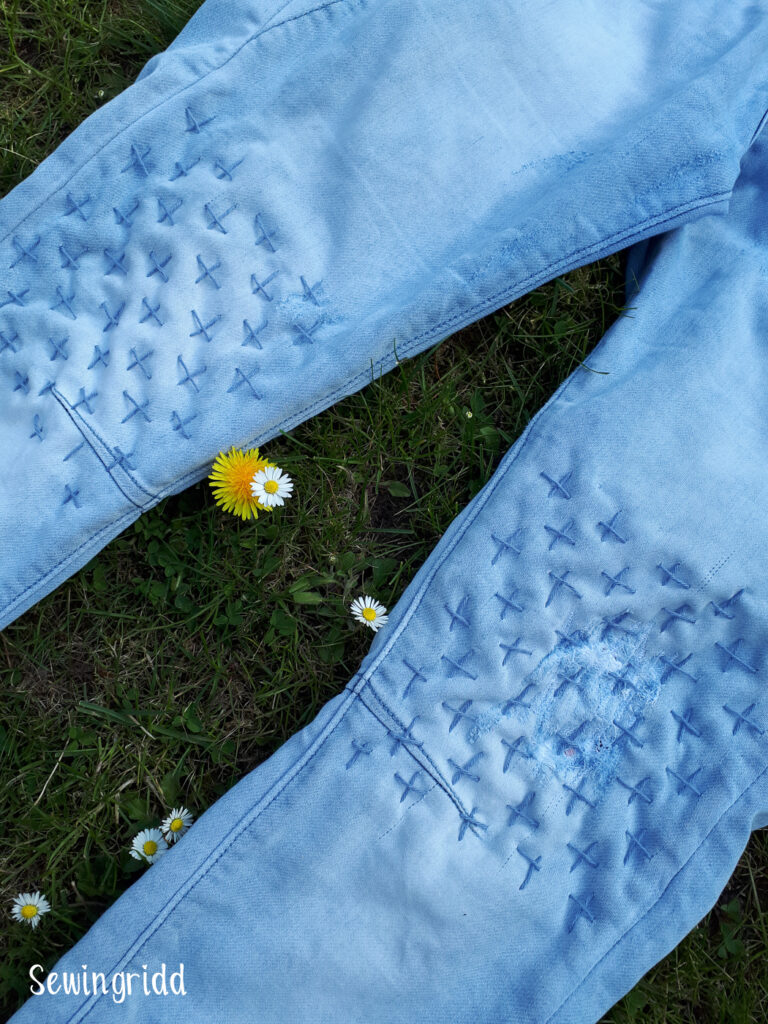 With those last two points, we come to my subject of today. I regularly resuscitate jeans that are almost at the end of their life. (Disclaimer: No, I don't want to repair / shorten your pants.) But now something cool came on my path, this time was different. My own jeans always wear the hardest between my thighs, but now a good friend asked if I could save her favorite jeans. It had become very thin, especially at the knees, and was already torn on one side. She had already repaired that herself, but now her own sewing machine had to be fixed so she entrusted it to me.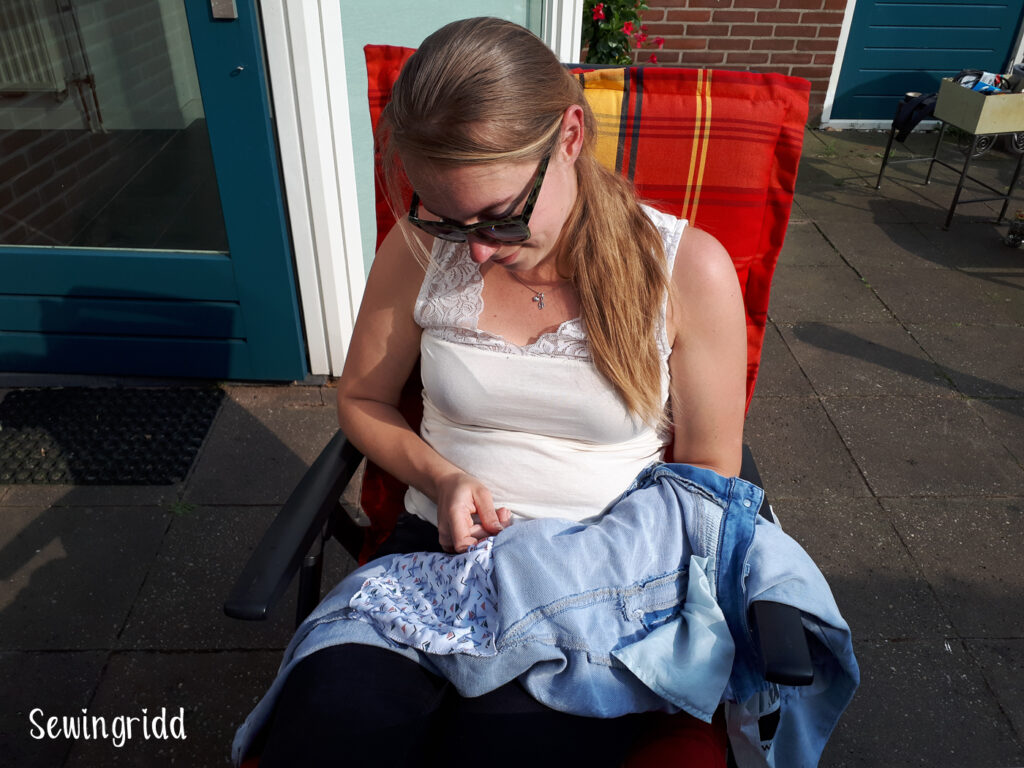 I would normally say no, but I made an exception for this person. The problem was still easy to solve, and moreover: I immediately saw possibilities! I wanted to try visible mending for a long time already, but you can imagine that it is not very charming between your thighs. I proposed the plan and she got excited too.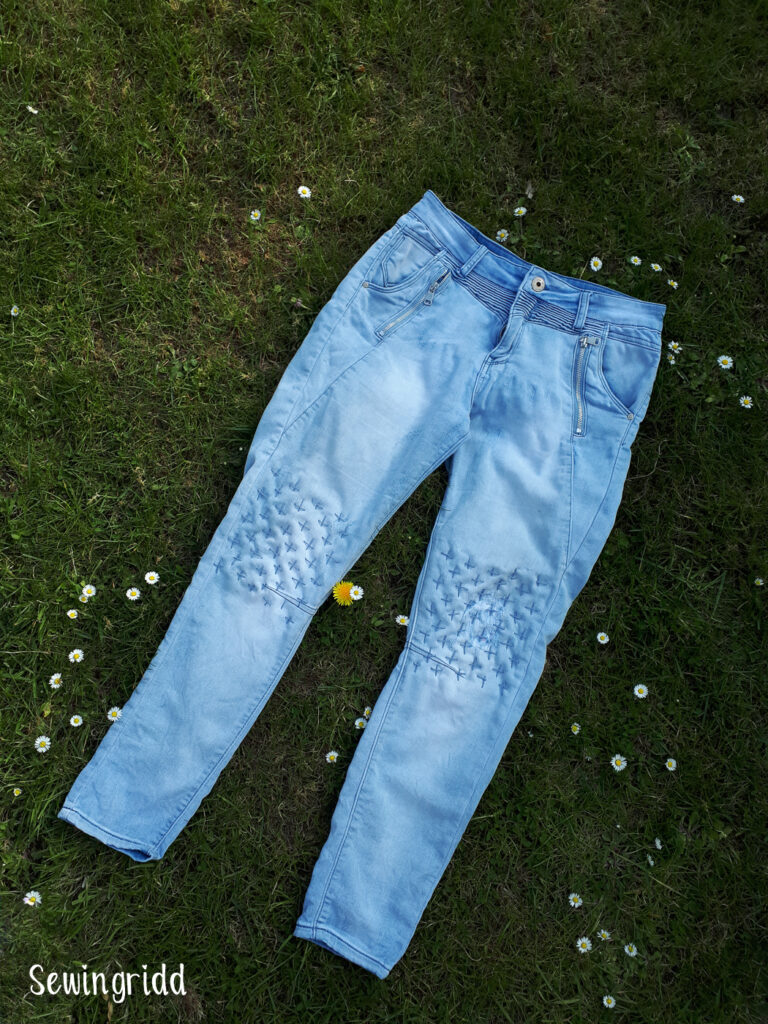 To find out how best to handle this, I first roamed the internet. Obviously, I didn't want to ruin someone's favorite pants. I soon ended up with a video by Melly Sews, in which she explains different techniques and patterns. I quickly collected all the essentials and got to work.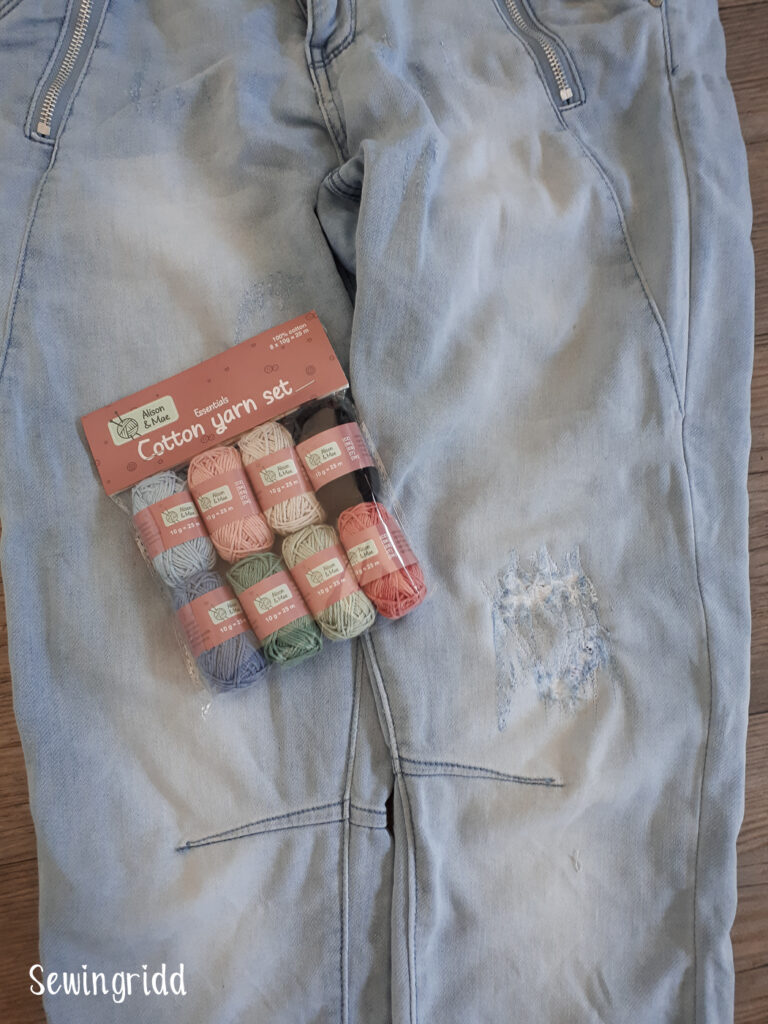 Necessities
:
Large needle (important: the eye of the needle must be large enough to pass the thread!)

Thread in a contrasting / matching color. (I used cotton crochet yarn, but then you need a huge needle)

Fabric scrap for reinforcement and padding (I chose a cotton jersey to maintain the suppleness of the thin jeans, you can also choose something firmer or, for example, beautiful lace)

Eventual fabric marker/tailor's chalk, pins and a sewing machine with thread
Method
:
Cut the reinforcement fabric to size. Finish the edges with a zigzag / serger stitch and sew it in place. I sewed the patch in the side seams so you don't see the stitching on the outside.

If there is already a hole in the pants: sew over it with the sewing machine on zigzag stitch a few times.


Choose a pattern you want to embroider. I chose a staggered plus stitch.


If you find it useful, draw a grid on the back of the fabric. I thought that would be nice as a guide, but found it not super helpful.


Embroidery time! Do not get discouraged if your stitches are not as perfect as you envisioned, that actually gives a nice playful effect. And an extra personal touch!


Easy actually, huh? I noticed that the second patch I sewed was finished much faster than the first. In addition to the knee patches, I decided to make a few plus stitches on the back pocket, for a coherent look. Such a detail makes it even more special and loved. Now I even think it looks so cool that I also want to do it on new jeans, haha!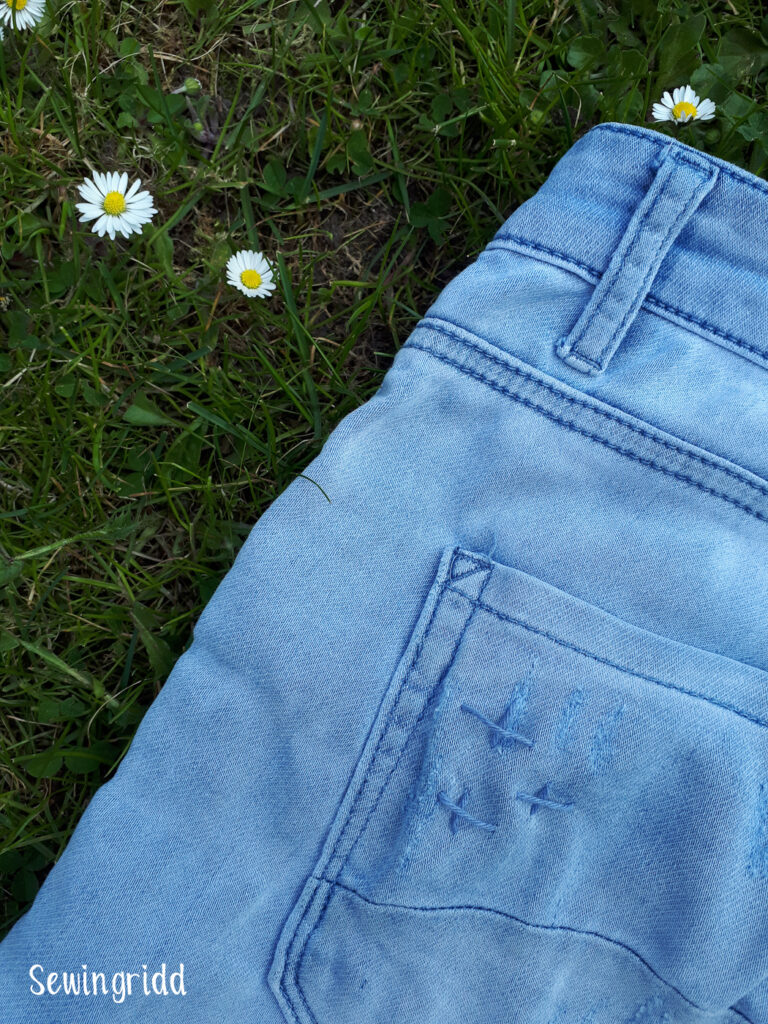 Are you already doing something to reduce your fashion footprint? Which steps do you consider most important and feasible for yourself? Do you have any good tips for me?
And if there were no personal constraints like budget or time, what would you do?! Wow difficult question, I'm going to think about that too! …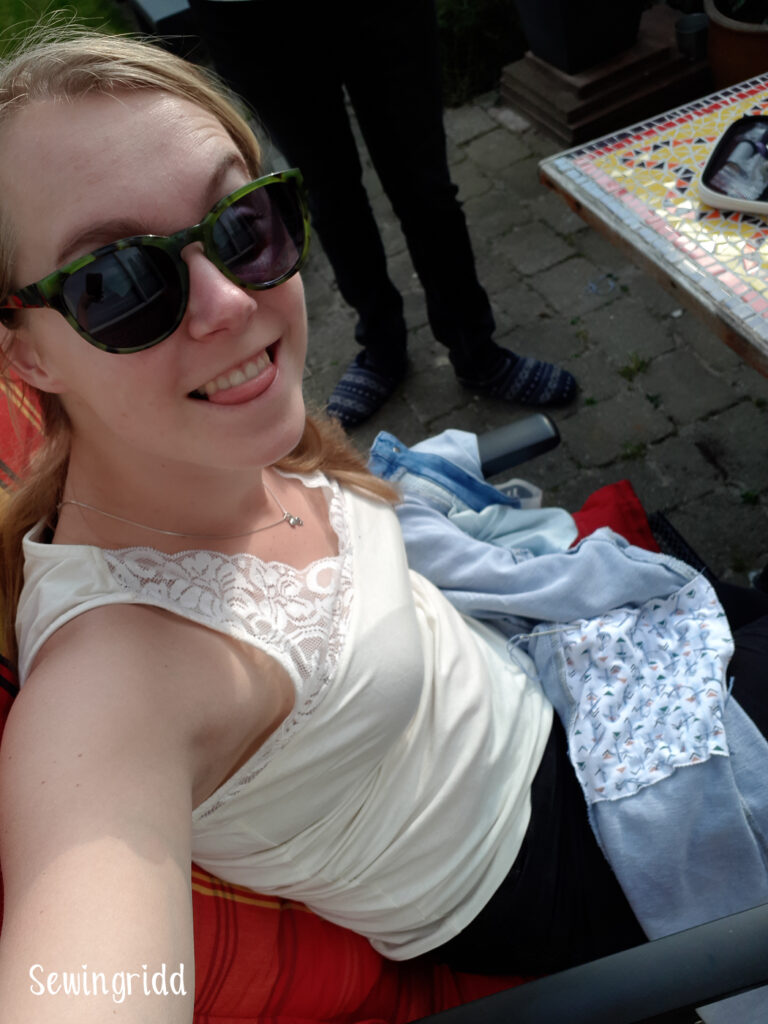 Don't wanna miss anything? Follow me on Instagram, Facebook, Bloglovin' or Pinterest and subscribe to the e-mail notifications!